Bail Bonds in Santa Ana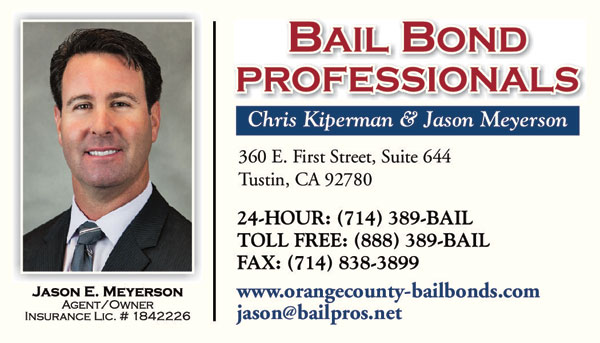 SANTA ANA BAIL BONDS SERVICES
After someone is arrested in Santa Ana the Santa Ana police take the person into custody and book them. Often times they will set bail so the defendant has the ability to be released from the Santa Ana Jail but most defendants are transferred next door to the Orange County Jail. A bail bond will allow them to be released from custody but guarantees the court that they will return for future hearings.
What is Bail?
Bail is an insurance policy that the defendant posts to the court to ensure they won't flee and will attend their court appearances. If the defendant does not show up, the bail is forfeited; a warrant is issued for their arrest. The bail bond company then becomes responsible for finding the defendant and returning them to court. If the defendant has attended all required court appearances, the bail is exonerated or released. In California, bail is usually paid with cash or a bail bond (insurance), although the court can take other forms of collateral, such as the deed to a house, which is call a "Property Bond". The amount of bail for each case can vary widely and depends on several factors such as the type of crime, the criminal record of the defendant and various facts of the case. "Innocent until proven guilty" does not apply for the purposes of bail. In fact, the defendant is actually considered "guilty" when judges are trying to determine the proper amount of bail for a defendant. Bail in Santa Ana can range anywhere from a few thousand dollars to over a million depending on many factors mentioned above.
Bail Bond Services in Santa Ana
In most people don't have extra cash available to post directly to the jail or court. This is when a bail bond agent becomes a valuable resource. A bail bond agent will post your bail for a fee of 8% to 10% of the bail amount. The 8% to 10% fee is a California law and cannot be negotiated. For example, if your bail is $15,000, you pay the bail bond agent either $1,200 or $1,500 to post bail. Once the case is over and the defendant has attended their court hearings, the bail bond is exonerated or released from the agent's liability; however the fee you paid, the "premium" is non-refundable. If the defendant fails to appear, the court is due the full bail amount from the bail bond agency. In these cases, a fugitive recovery agent or bounty hunter is hired to find them. In some cases, additional collateral may be required from the defendant or defendant's loved ones in addition to the premium.
What are the Different Kinds of Bail Bonds in Santa Ana?
The most common kind of bail bond used in California is a surety bail bond, but other types release methods are also used, such as a Property Bond, simple written promise (own recognizance), a federal bond, or a cash bond.
Surety Bail Bonds
This type if bond is issued under a contract between the bail bond agent, the party of the defendant, and a third party organization such as a bank or insurance company that can put up the full bail in the form of insurance. Often the entire bail is not actually posted, but instead a promise to pay is what is given to the court. This promise is backed by the bank or insurance company. Your bail bond agent should be fully licensed and bonded so you know that they are dependable and will be able to help you. Good bail bond agent are able to get your loved one released quickly and understand the difficulty you are going through.
Property Bail Bonds
Property bonds are bonds that are paid for by using real property instead of cash or a surety bond (insurance policy). Courts will accept a property bonds, but typically the value of the property must be twice the amount of bail set. For example, a property being used must have 100,000 of equity for a $50,000 bail bond. Moreover, the procedure for submitting a property bond is complicated and involves a lot of work which takes time. If a defendant is in custody, this means extra days or weeks before they are released. However, there is significant cost savings with a property bond and Bail Bond Professionals in Santa Ana is one of only few highly qualified experts at preparing these bonds.
Cash Bail Bonds
Cash bail bonds are used when the full amount of bail is posted directly to the court or jail in cash. If the defendant attends all their court hearings and the case is complete, the cash is returned roughly 60-90 days after the conclusion of the case. However, this ties up large amounts of money for what can be many months and few people can afford to post cash bail.
Immigration Bail Bonds
An immigration bond is used when a foreign national person is arrested. They are generally more expensive than a bond for a native person, as they involve higher risk and are more difficult to obtain.
Federal Bail Bonds
Also called Corporate Surety Bonds, Federal bonds are used for people accused of committing a federal crime. These bonds are more costly than non-federal county or state bail bonds, with the fee being 15% generally. This is due to increased risk and the extra work and time it takes to procure a Federal bond. In addition, adequate collateral is mandatory for a federal bond to protect the bail agency in case the defendant fails to appear in Federal court. Other types of Federal Bail Bonds include Federal Bail Bonds using deeded property.
Own Recognizance Bonds
When someone is released by the court without needing a bail bond, this is known as "own recognizance release". This is basically a signed agreement that the defendant signs for the court that they will show up at their court hearings required. These bonds are issued to people with no criminal record, who are in good standing in their communities, are a low flight risk and considered trustworthy. No money or collateral is required.
Santa Ana Jail Information
Santa Ana is home to the main jail complexes of Orange County.
Santa Ana City Jail
60 Civic Center
Santa Ana, CA 92703
(949)855-2612
Next door to Santa Ana Jail is:
Orange County Sheriff's Department
General Information (714)647-7000
CENTRAL JAIL COMPLEX
550 N. Flower Street
Santa Ana, CA 92703
(714)647-4666
Santa Ana, CA
Located in Orange County between Los Angeles and San Diego counties, Santa Ana is the county seat. Located along the Santa Ana river, and 10 miles east of the coast, Santa Ana was founded in 1869 and is today one of the most populous cities in Orange County. In 2010 the population of Santa Ana was about 324,500. The climate in Santa Ana is said to be Mediterranean, with dry, warm summers typical of southern California, and mild wet winters. Daytime temperatures in summer average low 80s to mid-90s Fahrenheit, and in winter low 60s to low 70s. There are several parks in Santa Ana, and nearby communities are home to Disneyland and Knott's Berry Farm. Beach communities such as Huntington and Newport Beach are close by, with surfing, swimming, dining, and shopping available.
There are several important businesses that reside in Santa Ana, including the corporate headquarters of Behr Paint, offices of Ingram Micro, TTM Technologies, Corinthian Colleges, Wahoo's Fish Taco, Xerox Corporation, T-Mobile, The Rickenbacker musical instrument company. Rickenbacker has made electric and bass guitars that have been used by many famous and legendary rock and roll performers.