Bail Bonds in Fullerton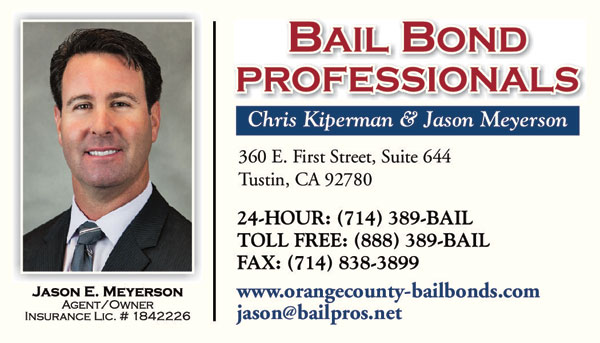 BAIL BONDS SERVICES in Fullerton
When Are Bail Bonds Needed?
If you or someone you love has been arrested in Fullerton and bail has been determined, you will need a bail bonds agent. The average person does not have the amount of cash needed to post the full bond amount so hiring a bail bond agent is the next step. A licensed bail bond agent posts bail to the court that ensures you or your loved one will appear at the next court mandated hearing. This "insurance" guarantees that the full amount of the bail will be paid if, for some reason, the defendant fails to appear for court. 10 percent of the total amount of the bail bond will be charged as a service fee. In some cases, additional collateral will be required to obtain a bond.
Where to Find A Bail Bond Agent in Fullerton?
Choose a bail bond agent who is licensed, insured, and above all, experienced. Our agency has been in business for over 20 years and understand what its like to fact this kind of personal hardship. We have experience in dealing with the Santa Ana court system and jail and are here to help. If you do not know what to do next, call us. We can help you figure it out. Our experience with both the Anaheim and Fullerton courts and jails can speed up the process and have your loved one home where they belong in a short period of time.
What Should I Look for in A Bail Bonds Agent?
It is important to hire an agent who is both licensed and insured. Companies who have been in business for several years, normally have a reputation of being exceptionally good at their jobs. Find out if they belong to any local organizations. The California Bail Agents Association (CBA) and the Orange County Bail Agents Association (OCBAA) are two of the most well known. As members of local organizations and having many years of experience assures potential clients they are experienced and dedicated to doing the best job possible.
It is also important to know where they stand with the California Department of Insurance. If you are interested in learning whether or not they are in good standing, you can look them up on this website:
http://www.insurance.ca.gov/0200-industry/0070-check-license-status
Do local attorneys and clients recommend them?
It is important to know that your bail bonds agent always makes their clients' needs top priority. They must be professional at all times and remain dedicated to helping you every step of the way. A professional agent should understand your personal needs and be able to help you through this difficult time. The agents at Bail Bonds Professionals are available day or night, 24/7. We are here for you whenever the need arises. To speed up the bail bonds process, we can travel wherever you need us. There are testimonials on our website from several of our clients, as well as attorneys we have worked with. We want you to know what others think of our work.
From Posting Bail to Release, How Long Does It Take?
After our agent posts bail, the process takes approximately 3 to 7 hours for your loved one to be released from custody. It may take longer if the facility is busier than normal or the facility is short staf
Fullerton, CA
Located in northern Orange County, California, Fullerton has a population of approximately 135,161, according to the 2010 government census.
Founded in 1887, the city of Fullerton, the land was secured for the following three railways: Atchison, Topeka and Santa Fe. It was well known for its agricultural produce including citrus crops and Valencia oranges. The area is also known for transportation, petroleum extraction and manufacturing. Fullerton College, California State University and other colleges and universities are located in the area.