Bail Bonds in Laguna Beach
Arrested in Laguna Beach, CA
Those arrested in the city of Laguna Beach, CA, are frequently taken to the Laguna City Jail on the northern part of town, located at 505 Forest Avenue, and are held there to be booked and processes. They have a small jail facility and it is not designed to hold inmates overnight
But if one is not bailed out of the Laguna City Jail quickly, there's a good chance he or she will be transferred to a much larger facility, the Orange County Jail in Santa Ana.
If transferred to a larger, more crowded facility, it will take longer to complete the booking process and will be many hours before they are released. That's why it's crucial to call a bail bonds agency as soon as you know of your loved one has been arrested. We at Orange County Bail Bonds, the Bail Bond Professionals, can call the local jail and have them hold the arrestee  until he/she until we arrive to post bail. Arrangements for bail are quick and easy, either over the phone or via email.
No matter where one is held after the arrest, there are limits (usually 48 hours) on how long someone can be held before his/her arraignment. But even a couple days in a dangerous, unfamiliar jail setting is a major risk. Plus, if you are not released from jail before your arraignment it may be difficult to hire a good lawyer and prepare you defense, which will greatly reduce your chances of an acquittal or dismissal.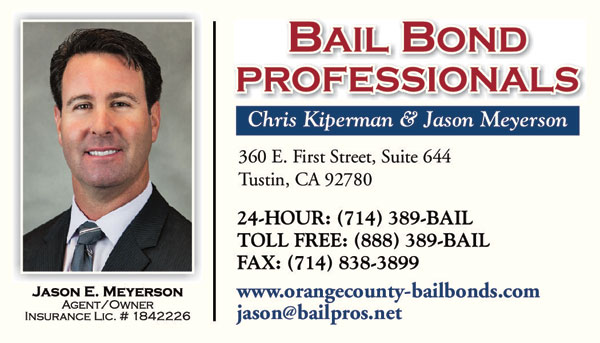 Call Orange County Bail Bonds, Bail Bond Professionals at 714-389-2245 anytime 24/7, 365 days a year (holiday inclusive) and we will help you or your friend or family member get out of jail as fast as possible!
Why Use Bail Bonds to Get Out of Jail Fast?
There are other ways to get out of jail (besides breaking out!) than to take out a bail bond. But the fact is, for most people, a bail bond is the most convenient option by far – many times it is the only real option.
The US Bill of Rights states that for most criminal charges, the defendant is entitled to get released from jail on bail. As long as there's no good reason to believe a defendant poses a flight risk or a threat to society bail is typically allowed.
But bail is also set purposefully high to ensure that those bailed out show up for their court hearings. That, in effect, often makes bail unaffordable for all but the most well to do, for the Orange County Bail Schedule may require thousands or even tens of thousands of dollars in bail for particular alleged offenses.
So what's the solution? A few people manage to get out of jail on "OR" (Own Recognizance), which means you don't need bail because your "community status" vouches for you - but that's rare. A few others might have the money to put down full bail on the spot or to use a property bond. But these are all exceptions.
The great majority of Laguna Beach and Orange County residents resort to a bail bond to make bail affordable. A bail bond allows you to pay only a 10% premium (fee) on the total bail amount to a state licensed bail bonds agency. The agency then posts the full bail with the court in your behalf. 
As long as the co-signer of the bail bond, be it the arrestee himself or (more commonly) a friend of relative of the arrestee, agrees to become liable for the full bail amount in the event the bond is forfeited to the court AND pays or sets up a payment plan for the 10% premium, bail is taken care of and the arrestee is free to be released.
How Exactly Do Bail Bonds Work In California?
A bail bond is a surety bond whereby the bail bonds agency becomes liable to the court for the full bail amount if the defendant fails to appear in court and flees the case. In turn, the bail bond looks to a friend or family member to become a "co-signer" whom becomes liable for the full amount to the bail bonds agency. Should the defendant fail to show up to a scheduled court hearing, the bail bond would "forfeit" and the bail company would be notified. A period of time would be given to "find and recover" the defendant but if unsuccessful, the co-signer would be full liable to pay the bail amount to the bail bond agency.
As long as the defendant shows up, all is well. But if not, the bond is forfeit to the court, and the bail bonds agent can send out a bounty hunter to bring the defendant to court. The presiding judge can decide to reinstate the bail bond after the defendant finally arrives, but that is at his/her discretion. But with cash bonds, there is no possibility of reinstating the bail in such cases, as there is with bail bonds.
Only state licensed bail bonds agents who meet strict state requirements and conform to state regulations on the industry can operate in California. Under state law, bail bondsmen must charge a "premium" to the consumer. Depending up cases rates may range from 8% to 10%
A bail bond can be posted quickly, allowing one to get out of jail within a matter of hours (sometimes less than an hour), depending on the size and busyness level of the jail facility. Contrast that with property bonds that not only risk your property but also take a good deal of time to prepare.
Thus, a bail bond is easily the most accessible and convenient means of getting out of jail fast for the vast majority of Orange County residents.
Why Choose Orange County Bail Bonds Near Me?
There is no shortage of bail bonds agencies operating in and around Laguna Beach. But when you're looking for a reputable, efficient, and professional bail bonds agency, your options are more limited, to say the least.
Orange County Bail Bonds has been around for many years and has built a strong reputation in communities like Laguna Beach through superior services and dedication to our clients' best interests.
We have agents on the ground 24/7 who can meet you at jail or at another location within minutes. And you can call us anytime 24/7/365 at 714-389-2245 for immediate attention to your case.
We can process the bail bonds' paperwork in only 20 to 30 minutes and post bail without delay once the bond is ready. As soon as we post the bond, the release process can begin.
We also understand that not everyone can afford to pay the 10% premium in full upfront. That's why we offer reasonable financing plans with low or no down payment or collateral, depending on the applicant's credit score.
About Laguna Beach
Life in the seaside resort town of Laguna Beach may seem like a dream come true, with year-round mild to warm temperatures, miles of scenic, sandy beaches and picturesque coves, and a host of in-town or near-town shopping, dining, and recreational activities.
It's a resident's paradise, not just a tourist' paradise, some say. But when you or a loved one are suddenly arrested in Laguna Beach and charged with a crime, none of those attractive features that brought you to Laguna Beach matter for the moment - you want to know the answer to just one question: how do I get myself or my loved one out of jail as fast as possible?
Laguna Beach Police
505 Forest Ave
Laguna Beach, CA 92651