Bail Bonds in La Habra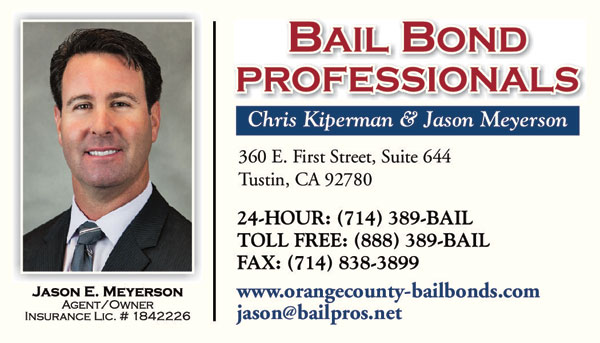 La Habra Police Department is located 150 N. Euclid Street, La Habra, CA 90633 and is within the Orange County boarder. City of Brea is located east of La Habra, south of Fullerton and west of the City of LaMirada. La Habra Heights is located to the north of La Habra and is in Los Angeles County.
Bail Bond Professionals is available at all hours to have defendants released quickly from the LaHabra Police Department and La Habra Jail. When you call us it will be answered by only experienced, honest agents ready to take action immediately and post bail within minutes. Once bond is posted at the La Habra Jail defendants are released quickly. This avoids them having to be sent to the Orange County Jail where release times can be hours or even days.Defendants arrested by the La Habra Police will initially be taken to a holding cell at the police department. In most cases, a bail bond can be posted at this facility and the defendant will be released promptly. If bail is not posted, they will be transferred to the Orange County Jail in Santa Ana.
Integrity and Professionalism
Unparralled professionalism and unmatched experience. these are the two traits that separate us from other bail bond services in Orange County. We pride ourselves on providing exceptional service that other cannot or chose not to provide. Other major benefits for choosing Bail Bond Professionals are:
• NO ANNUAL PREMIUM REQUIRED. Others will charge you the bail bond fee twice or more if your case continues for more than a year.
FREE "RE-WRITE" FEE. If the District Attorney fails to file your case when you appear in court but files at a later date, we will always write another bond at no charge.
• WE are always prepared to meet at the La Habra Jail to have defendants released quickly.
• Unparalleled 24-hour customer service that's personal, professional and confidential.
• Flexible payment plans* and a variety of payment options, including Visa, MC, Amex and Discover.
*Conditions apply.
La Habra Police services 60,000 residents in the city and was established in 1926. They are known to be one of the finest, most highly trained police departments in all of Orange County.
For La Habra Bail Bonds call a true Professional at Bail Bond Professionals in the heart of Orange County.
(714) 389-BAIL