Bail Bonds in Irvine
If your loved one has recently been arrested in Irvine, CA, you may be in need of professional bail bond services to get him or her out of jail fast. We at Irvine Bail Bonds are available 24/7/365 to assist you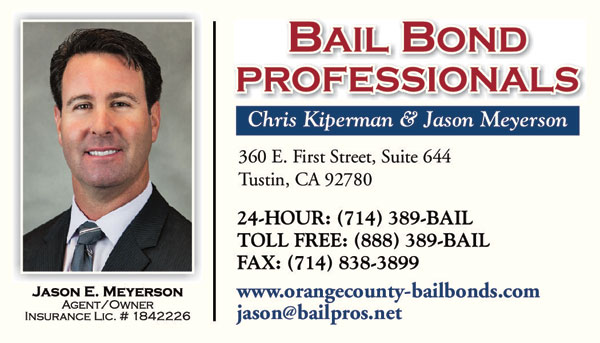 with all of your bail bond needs. Do not hesitate to contact us today at 888-389-2245 for immediate attention to your case by a fully licensed, bonded, and insured bail bond agent. 
Affordable Bail Bonds
At Irvine Bail Bonds, we accept payment by cash, check, or any major credit card. The 10% premium, based on the bail amount, is set by state law, but we strive to keep all other fees and rates as low as possible to ensure that your bail bond is affordable.
If, as is the case with many people, you cannot afford to pay the premium upfront, you can take advantage of one of our convenient payment plans. Some of the most attractive features of our payment plans are:
Most of them are interest-free.
Down payments are kept low.
Our plans can be customized to fit your needs.
You can have payments auto-deducted using your debit or credit card.
We will send you monthly statements updating you on your current balance, current payment amount due, and next due date.
Acting Fast Saves Time and Hassle 
Our agents are fast and flexible. They can meet with you at the Irvine Police Department Jail, at your home, or at another location with only minutes' notice for no additional fee. We act fast because we know that it is only a matter of time before your loved one could be transferred to the Orange County Main Jail in Santa Ana, a large maximum security facility where the release time would be significantly longer. For this same reason, and to minimize the time your loved one must spend in jail, we recommend that you contact us as soon as you learn of your loved one's arrest.
How Bail Bonds Work 
A bail bond is a contractual agreement whereby the bonding agency agrees to pay the full bail money should the defendant fail to appear in court. The bond applicant, normally the arrestee or a close friend or relative of his, agrees to pay the full bail amount to the agency should the court forfeit the bond upon the defendant's non-appearance.
Bail cannot be posted until the arrest and booking procedures are completed. The bail bond agency will also need to collect a few basic pieces of information first before agreeing to issue the bond, such as:
The place the arrestee is being held
How long he or she has been detained there
The charges on which the arrest was made
The defendant's full legal name
The defendant's current residence and place of employment
If the risk that the defendant will flee justice once bailed out is deemed low or non-existent, the bail bond agency will post the bail. However, if there is a bail hold on the defendant, then he will have to remain in jail until his first court appearance. The bail bond paperwork will also have to be completed before the bond is issued.
A friend or relative will normally agree to become responsible for the bail bond. If so, he/she will need to sign the following three documents:
The bail bond application
The bail bond indemnity agreement
The bail bond premium receipt
Once all paperwork has been finalized, the bail bond agent will post bail for the arrestee at the Orange County jail where he is being detained. If you are unsure of the exact location of your loved one, we at Irvine Bail Bonds can assist you in finding the jail facility where he is being held.
We can process the paperwork in very little time, but the release time depends on the particular jail and the number of inmates jail staff are currently handling. Release time usually ranges between 20 minutes and two hours for Irvine arrests. Our agents are highly experienced and know how to expedite the whole process to get your loved one out of jail as soon as possible. 
Contact Us Today
If you need further information on the bail bonding process or if you would like a free consultation on getting yourself or your loved one out of jail, do not hesitate to contact us toll-free at 888-389-2245. Our agents can take your call in either English or Spanish and are available 24/7. Irvine Bail Bonds has long served Irvine, CA, Orange County, and Los Angeles with expert bail bonds services, and we will be happy to serve you as well.