Bail Bonds in Costa Mesa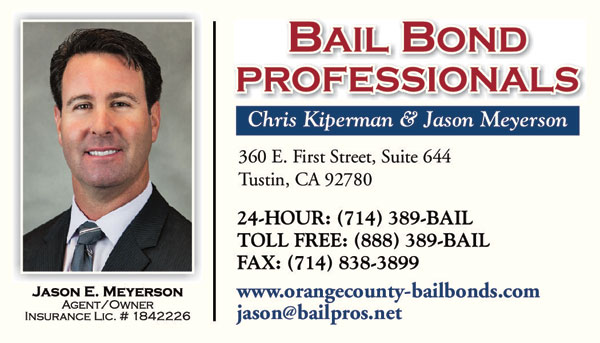 POLICE ARREST IN COSTA MESA
Getting arrested can be extremely stressful for those incarcerated, as well as their loved ones. After suspects are arrested in Costa Mesa, they are taken to Costa Mesa jail and police facility and booked. If you are arrested and charged with a crime in Costa Mesa you will be held for an undetermined amount of time before being sent to the Orange County Jail in Santa Ana. Their address is:
Orange County Santa Ana Jail
550 N. Flower Blvd.
Santa Ana, CA 92701
Phone: (714)647-4667
Costa Mesa Police
99 Fair Drive
Costa Mesa, CA 92626
There the defendant will be booked and a decision will be made if bail is required for their release. At this time they are allowed one phone call. This call should be to someone who can help like a family member or friend that can help arraigne bail. It is important to identify where the person is being held, what the charges are, how much the bail amount is and what their booking number is if they have one.
Bail Bond Services to Help You in Costa Mesa
Bail is set according to a county bail schedule that defines how much bail should be depending on the type crime. Bail in Costa Mesa can range from just a few thousand dollars to over one million depending on the type of crime committed. There will be a hearing scheduled to determine the next step in your case, and you must remain in custody unless you post bail. Once bail is posted, you are free to leave on the condition that you attend all required court hearings until your case is concluded. Once you have done so, the bail will be exonerated or voided. If you fail to attend your court hearings, the bail will be forfeited to the court.
Because most people don't have large sums of money on hand on a short notice, a bail bond agent can really help to post bail for you. A good bail bond agent can work quickly and effectively to get you released. For most cases, you must pay 10% of the amount of bail to the bail bondsman for their services. This is a non-refundable premium and is mandated by the Department of Insurance. If a company advertises that they can provide your bond for less, you should check them out carefully. Sometimes 5% or less is advertised, and this could really mean that they require 5% down, and will finance the rest. If they tell you just need to pay 5%, then they are breaking the law and you don't want to do business with a bail bond company that breaks the law, especially when they control your freedom. Often times, additional collateral will be required to guarantee the bond, such as a real property, pink slip for a car or a boat. In some instances, you may be eligible for an 8% premium. This is when the defendant has hired an attorney before bail is posted, if they are an AARP member, in the military, or a union member.
At Bail Bond Professionals in Costa Mesa, we have no hidden fees (some companies charge an "annual premium"), and with 20 years in the bail bonds business in southern California, we are highly experienced with bail bond procedures in Costa Mesa and nearby communities. We will help you through every step and can be where ever you need us, 24 hours /day. You can rest assured that we put our clients first, provide first-class personal and professional service, and your bail will be posted with the utmost efficiency.
Costa Mesa, CA
Located just east of Newport Beach in Orange County, CA, Costa Mesa has a population of over 109,600 people. The economy of Costa Mesa is a mix of light manufacturing, retail, and general commerce. Costa Mesa was formerly a farming community.
Costa Mesa is home to a large cultural center, the Segerstrom Center for the Arts and Reparatory Theater which serves the Costa Mesa, Santa Ana, Irvine metro communities. These venues feature music, dance, theater and other national and international performance groups.
Also in Costa Mesa is South Coast Plaza, a shopping mall with about 320 stores and is one of the highest volume shopping malls in the area. Some of the manufacturing in Costa Mesa occurs in the south western portion of the city, and is comprised of several pharmaceutical, plastics and electronics companies. Costa Mesa is also home to the Orange County Fairgrounds, where the Orange County fair takes place every summer, as well as other events throughout the year.