Bail Bonds in Brea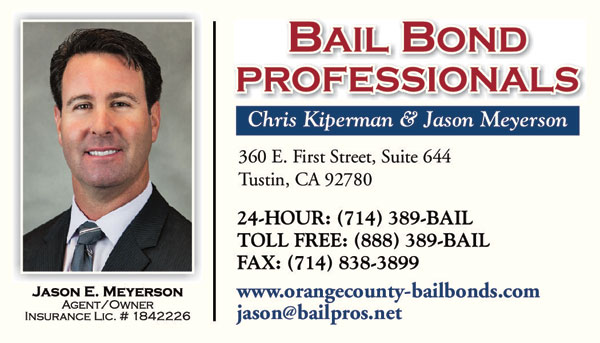 If you need a bail bond in Brea, look no further. We have 15 years of local bail bond experience and are ready to assist you now. (714) 389-2245
Brea, California, is a popular place to shop and visit, with its Brea Mall and downtown retail centers making it a hub of the L.A. Area. And it's a beautiful place to live too, with its model local art collection on display throughout the city.
But when suddenly you find yourself arrested in Brea, CA, everything else quickly fades into the background. Only one thing matters for the moment - finding a way to get out of jail as fast and affordably as possible.
Arrested in Brea, CA
At Orange County Bail Bonds, we have a longstanding local presence in Brea, all of Orange County, and the whole L.A. Area. We have agents on the ground who can rush to your assistance with only minutes' notice.
If you have been arrested in or around Brea, CA, do not hesitate to contact us by calling 714-389-2245 24/7/365 for immediate assistance. We know how the process works and can get you out of jail fast.
If you were arrested in Brea, you were likely taken to the small-sized Brea Police Department Jail located at 1 Civic Center Drive. That jail is only used to hold inmates temporarily before transferring them to the much larger Orange County Jail facility in Santa Ana.
The fact is, processing and release at the small Brea Jail is much faster than at the large, busy OC Jail. Many times, people contact us as soon as they know they or their loved one has been arrested, and we are able to inform the Brea Police Department that bail will be posted for the inmate and prevent a transfer to Santa Ana.
That's ideal. That saves you a lot of time. But, even if your loved one has already been transferred to Orange County Jail or somewhere else in the region, we are familiar with those facilities as well and can get him or her released in as little time as possible.
How the Bail Bonds Process Works
There are other ways to get out of jail besides on a bail bond, but the vast majority of arrestees use bail bonds - why?
Bail exists for two counterbalancing reasons: to allow people a way to get out of jail to prepare for their upcoming court arraignment and to discourage those bailed out from fleeing justice instead of showing up in court.
Bail is a Constitutional right, but that right only applies in non-capital cases where the defendant is deemed likely (by the court) to face the charges against him in court. To encourage people to show up for their arraignment, bail is set purposefully high, but that makes it too high for most people to afford out of pocket.
Bail bonds allow you to pay only a 10% premium (fee) on the total bail amount for the service of having a bail bonds agent post the full bail for you, in the form of security bond. 
The cosigner of the bond, usually a friend or loved one of the inmate, pays the premium and agrees be liable for the full bail amount if the defendant fails to show up in court. It's possible that a bail bond could be reinstated once a defendant finally does come to court, but once it's forfeited, it's at the judge's discretion alone to decide that matter.
So long as the person bailed out attends all of his/her court hearings on time and doesn't violate the terms of the bail, such as residing in the same county and informing his/her bail bonds agent of any changes of address, employment, or contact information - all is well. 
After the court case is resolved, the court returns the bail money to the bail bonds agency. The cosigner only has to pay the 10% premium and not the full bail amount.
Bail bonds may not be a perfect solution, but they are the best, most affordable solution to most people arrested in Brea and in Orange County.
Why Choose Orange County Bail Bonds?
It's true that there are numerous bail bonds agents operating in Orange County, but not all of them are reputable and reasonable - we are.
Orange County Bail Bonds has been serving Brea and surrounding communities for many, many years, and we have earned a reputation for integrity and professionalism among local residents.
We offer you many distinct advantages and benefits over our competition, including the following five:
No hidden fees. We charge a 10% premium, which rate is mandated by the state of California. In some cases, you can get a 20% discount and pay only 8%. We don't hit you with "annual premiums" or other unexpected fees like some other bail bonds agencies do.
Immediate response. We respond instantly, as soon as you call us. We have mobile agents on the ground who can meet you at the jail or another location of your choosing. We can normally process all paperwork in 30 minutes, 20 minutes, or less.
Quick release. We can post the bond immediately after you've arranged the paperwork and after the arrestee has been booked. We know how to minimize the time you or your loved one spend in jail.
Full confidentiality. We only ask you for pertinent information and we keep all conversations 100% confidential. We can meet you at a desired location other than the jail if you wish, and we can often arrange the bail bond 100% over the phone if you don't want to meet with us in-person at all.
Flexible payment options. We take multiple forms of payment, and we can provide affordable, flexible financing if you can't afford to pay the full 10% premium up front. Many of our financing plans are no-collateral, no down payment, and low or no interest. Exact terms depend on your credit history, but we provide low rates and plans with affordable monthly payments.
We have a long list of satisfied, local Brea customers, consistently positive online reviews, high marks by the BBB and various industry standard-setters in the legal world. And we get a large percentage of our new clients on referral from past ones. 
Contact Us Today for Immediate Help!
At Orange County Bail Bonds, we stand ready 24/7 365 days a year to take your call for help and respond immediately.
We have helped numerous others get themselves or their loved ones out of jail fast with a bail bond in Brea, Orange County, and Southern California. And we can do the same for you!
Contact us today by calling 714-389-2245 to talk with an experienced, state-of-California licensed bail bonds agent. We can help you understand how bail bonds work, process your paperwork quickly, and get your loved one out of jail in as little time as possible!