Bail Bonds in Buena Park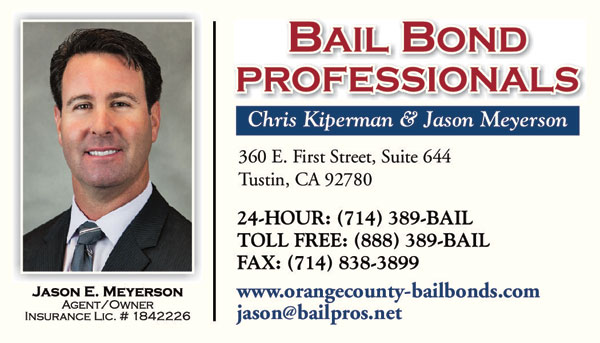 Residents who live in the Buena Park area and are dealing with the arrest of a loved one can call the agents at Bail Bonds Professionals. By calling our office at 714-389-2245 and talking to an agent, we can have all of their questions answered in just a few minutes' time. We have the knowledge, training, and experience to help you get through one of the most difficult periods you will ever face. All you have to do is call our office and explain your situation. Our bondsmen will know what to do if you need to have a bail bond posted in the Buena Park area, or anywhere else in the state of California.
Arrested in Buena Park? Bail Bonds Professionals Cane Help!
If your loved one has been arrested in the Buena Park area, they will be detained at the Buena Park City Jail located at 6640 Beach Blvd. They will be held at this facility until they have been processed and arraigned after which time they will be taken to the Orange County Jail. If you need information, you can call 714-562-3939 24 hours a day and talk to a jail official. Once you know where your loved one is being held, calling the offices of Bail Bonds Professionals should be your next step.
What Should You Do First?
After being notified of an arrest, your first step should be to call a reputable and experienced bail bond agent. At Bail Bonds Professionals, each agent is licensed and bonded. They understand the law and will be able to answer your questions and determine whether or not they can help you bond your loved one out of jail. If a surety bond is needed to post bond, they will fill out an application and give you options on how you can pay the 10% premium. If you complete the application over the phone, you can secure the premium with a credit/debit card. If you come into the office to fill out the application, you can pay for the premium with cash, money order, property, or a check.
Understanding the Bail Process
There are several things that will happen if you or someone you love is arrested and taken into custody. The first step is the intake process which entails verifying the defendant's identity, being fingerprinted, being photographed, their belongings inventoried and finally charged. As soon as the defendant has been formally charged, their bond can be posted so the release process can begin. Both processes take between 2 to 6 hours a piece, depending on how busy the jail staff is at the time the bond was being posted.
The bail bond agents from Professional Bail Bonds will walk you through each step of the process to ensure you understand everything that is going on. The agent will explain your rights and obligations as a co-signer as well as those of the defendant so that both of you know what is going on and what will be expected of you throughout the time the bail bond is in place. It's essential that you understand these guidelines and agree to remain in compliance.
Your Rights and Obligations
Both the co-signer and defendant have rights and responsibilities that must be agreed to before a bond can be posted. As a co-signer, you immediately become responsible for the full bond amount if the defendant flees the jurisdiction of the court and does not attend their scheduled hearing. You have the right to revoke the defendant's bond at any time, especially if you longer feel safe or feel that they are not upholding their end of the agreement.
The defendant must agree to appear at all scheduled hearings while out on bond. They must also agree to remain within the jurisdiction of the court at all times while the bond is in effect. The defendant must report regularly to the bail bond agent and notify the court whenever there is a change in address, phone number or employment. They must also agree to remain in compliance with any other stipulations the court may include. Not complying with the court's demands may result in the forfeiture or revocation of their bond.
Take Care of Your Family
While out on bond, the defendant can continue to care for their family. They can return to work and continue to earn a living just as they did prior to their arrest. During this time, the defendant may want to consider hiring an attorney who can help build their case and provide them with the legal representation they need. Having a reputable attorney is essential to ensure that their rights are fully protected. Just like the bail bonds agent protects their right bond out of jail, the attorney will ensure that they are treated fairly during the judicial process. It is also important to remember that being charged with any new criminal activity while out on bond can adversely affect your case.
Where Are You Supposed to Appear?
Arrests that take place in the Buena Park area are normally dealt with at the North Justice Center located at 1275 N Berkeley Avenue in Fullerton, California. If you have questions about your court date or to find out any further information about your case you can call 657-622-5600 and speak to the Clerk of Courts. It is important that you appear well before your scheduled time on the date of your hearing. If for any reason you miss court, you must call the courthouse and explain your situation. In most cases, they will set a new hearing date and reinstate your bond. You will also have to talk to your bail bond agent as well.
Make the Call!
The agents at Bail Bond Professionals understand that an arrest is no fun for anyone. It is their goal to lighten the burden that this type of event often carries. They will work with you to make sure all of the financial aspects of the bail bond are quickly taken care of so that your loved one can return home as quickly as possible. When you want the services of a seasoned bail bond agent, call 714-389-2245 any time of the day or night, holiday or weekend. A live agent will always be on hand to assist you in any capacity possible.
Finding a Buena Park Bail Bond Agent Near Me
The licensed agents at Bail Bonds Professionals are always available to serve the residents of Buena Park and all of the neighboring communities throughout Southern California. Their agents work with the courts and law enforcement agencies all over California to provide their clients with the best service possible. If you need a qualified bail bond agent in a hurry, call our Orange County Bail Bonds at 714-389-2245 and talk to the agents at Bail Bond Professionals today!