Bail Bonds in Buena Park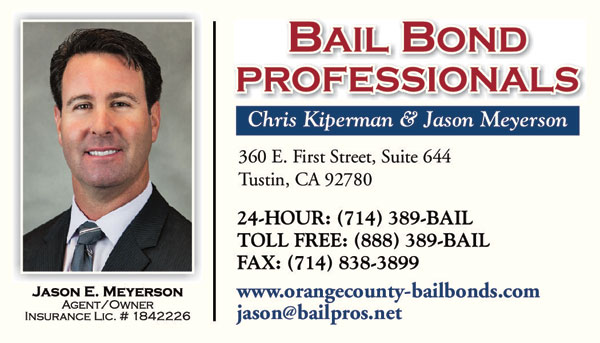 When Is a Bail Bond Needed?

It can be hard for many people to come up with bail money when a friend or family member has been arrested in Buena Park. If a loved one has been arrested and their bail has been set, you will need to hire a bail bonds agent if you do not have the total amount of bail. Licensed bail bonds agents can post bail to the court ensuring the entire amount of bail will be paid if the defendant does not appear at their scheduled hearings. A fee of 10 percent of the total bail bond amount will be charged for the agents' service. Some transactions may require extra property or collateral to secure the bail bond.

Where Do I Look For a Bail Bond Agent In Fullerton?

When you are looking to find a reputable bail bonds agent, the first step is finding one that is fully licensed and bonded. It is also important that they are familiar with the way Buena Park jails and court systems work. They should also be considerate and understanding of your situation. Our office has been in the bail bonds business for over two decades. It is our goal to explain everything in detail and help you make an informed decision. Our bail bonds agents have also worked with jails in Anaheim and the court system in Fullerton and will be able speed up the process.

What Makes a Good Bail Bonds Agent?

The bail bond agent you choose should have plosive reputation backed by several years of experience. It is important that they be properly licensed and bonded. Check to see if they are members of the OCBAA (Orange County Bail Agents Association) and the CBA (California Bail Agents Association). Being members of these organizations means they are well known by their peers and are committed to providing the most ethical and sound service possible.

Being in good standing with the California Department of Insurance is extremely important. To find out where your bail bond agency stands with the department, you can visit this website: http://www.insurance.ca.gov/0200-industry/0070-check-license-status/.

Do Local Attorneys and Clients Recommend Them?

As with any type of business, clients must be the priority. Bail bond agents are no different. They should be knowledgeable, understanding of your situation and able to take the time needed to answer your questions and alleviate any fears you may have.

The staff of Bail Bond Professionals is available night or day. We are here 24/7 to help you get through a difficult situation. We can be on the road in a matter of minutes and have the bail bond process in motion rather quickly. Our website has several testimonials from both satisfied clients and attorneys we have worked with. Visit our page and see what they have to say.

How Long Does the Release Process Take?

The time it takes to release a defendant after bail has been posted varies by location. In most cases, it takes between 3 and 8 hours, depending on how busy the jail is and what time of day it is.

Buena Park, CA

Located in northwestern Orange County, California, Buena Park is located approximately 12 miles northwest of the county seat of Santa Ana. The population of the area averages approximately, 80.530.

Better known as the Center of the Southland, Buena Park is the home of Knott's Berry Farm and other well known tourist attractions. It also considered to be part of the Los Angeles metropolitan area.
Buena Park Police
6640 Beach Blvd
Buena Park, CA 90621