Huntington Beach Bail Bonds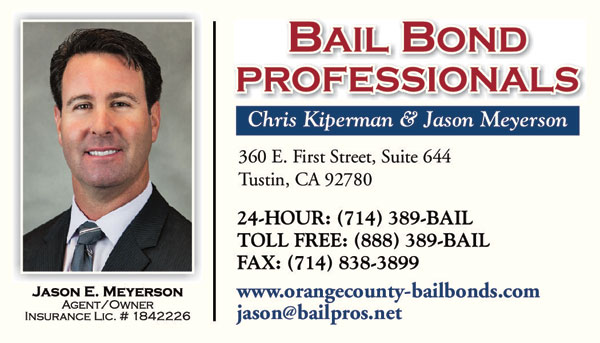 If you, a family member, or a friend have recently been arrested in Huntington Beach, California, or anywhere in Orange County or throughout Southern California, we at Orange County Bail Bonds stand ready 24/7 365 days a year (holidays inclusive) to help you or your loved one get out of jail as quickly as possible.
No one plans on getting arrested, but around 10% of the population does at one point or another during their lives. Almost everyone has either been arrested or knows a close friend or family member who has. And even in Orange County's beautiful, sunny "Surf City," arrests are not at all uncommon.
But given the dangerous environment that can be encountered in jail and the need to get out of jail before your arraignment so you have time to hire a good lawyer and be prepared for it, getting out of jail fast is a truly critical matter.
The Arrest and Booking Process in Huntington Beach
Those arrested in Huntington Beach, CA, are likely to be taken to the local City of Huntington Beach Police Station Jail, located in town at 2000 Main Street. 
Those arrested will be registered and have an official charged entered against them, or, they will simply be released if no charge ends up being filed.
The booking process in Huntington Beach will include a mug shot with an accompanying written description, the taking down of basic personal information, and fingerprinting. 
When fingerprinted, the inmate will also have a DOJ record check run to see if he or she has some outstanding warrants for other offenses.
Any personal property or cash will be taken into custody of the jail personnel temporarily. Each item taken will be carefully recorded so it can be returned to the inmate upon release.
There will also be a medical examination to ascertain both physical/mental health. And the arrestee will be provided with a list of "jail rules" he/she must follow while in the facility.
Finally, the inmate will be allowed a single phone call. Likely, the inmate used this call, which is a guaranteed right based on state law, to call a lawyer, a bail bonds agent, or a friend/relative who then contacted the bail bonds agency in behalf of his/her loved one.
How Bail Bonds Work in Huntington Beach
In the great majority of instances, those arrested and booked at the Huntington Beach Jail will be eligible for bail. If there is already another warrant out for your arrest, a court order forbidding bail, you fled justice when out on bail in the past, or if the nature of the allegation makes it likely (in the court's opinion) that you will flee justice, bail will be denied.
The Orange County Bail Schedule will specify how much bail must be paid for each particular offense. It is possible that that amount could be adjusted, however, during a bail hearing, based on various factors.
Bail can be posted with the court in cash, cashier's check, money order, or a personal check (if issued from a California bank.) This is called a "cash" bail. The full amount has to be come up with all at once and given to the court; if the arrestee doesn't show up for his/her hearings, however, it will all be forfeited without any way to get it restored.
Most people can't afford a cash bond, and even if they can, they don't want to risk their money or tie it all up for the duration of the trial, possibly for months, with no interest accruing.
It is also possible to post a property bond, if you have sufficient equity in real estate. But this takes a good deal of time to prepare, and it risks the loss of the property.
Some few inmates are let out on "OR" (own recognizance), meaning no bail is necessary. This is done based on "community standing," but again, not many people qualify.
Bail bonds are the most commonly used form of bail in Huntington Beach and elsewhere in California. A bail bond is a surety bond posted by a state-licensed bail bonds agent for the full amount of the bail.
The cosigner - either the inmate himself or a friend/relative of the inmate, must pay a 10% premium fee on the full bail amount to secure the bond. State law forbids this premium be any more or less than 10%, except in a few cases where a 20% discount is permitted, making it an 8% fee.
The cosigner becomes liable for the full bail amount if it is forfeit to the court. This would happen if the defendant failed to appear for any of his/her scheduled court appearances. But with bail bonds (unlike with cash bonds), it's possible to get a forfeited bond restored once the defendant does appear in court, though this is fully at the discretion of the presiding judge.
Those out of jail on bail or bail bonds must abide by strict "rules" until their trial is completed. For example, you cannot leave the county, and you have to inform your bail bondsman of any changes in address, employment, or contact information. And if one bailed out flees justice, it's up to the bail bonds agent to hire a bounty hunter to find him and bring him back to appear in court.
Why Choose Orange County Bail Bonds?
At Orange County Bail Bonds, we are under no illusions that we are the only bail bonds agency operating in Huntington Beach and Orange County. But the simple fact is that many of our competitors are inexperienced, don't put their clients' best interests first, or are even not reputable.
Here are some of the features that set Orange County Bail Bonds apart from the crowd:
Many years of service in Orange County and Huntington Beach - a solid, longstanding local reputation as the best.
We have agents on the ground 24/7 and can take your call literally anytime, 365 days a year. We can be there in minutes and complete the paper work in 20 to 30 minutes in most cases.
We know the local court and jail facility procedures as well as California/Orange County bail law down to the minutia and use this knowledge to speed up the bail-out process as much as possible.
No surprise fees. Everything's simple and upfront. And we keep ourselves affordable because we know our clients may be struggling financially.
We offer financing to those who can't pay the 10% premium upfront. We work with you on interest rates, collateral, and down payments, and it's possible you can avoid all of those depending on your credit rating. And we work with you so your monthly payments are affordable as well.
We respect your privacy and treat you with respect. And we are flexible to your needs and schedule. We can handle the entire bail bonds arrangement over the phone if you wish or meet you in a convenient location.
Contact Us Today for Help!
For further information on our bail bonds services or to get started on getting yourself or your loved one out of jail fast, do not hesitate to contact Bail Bond Professionals 24/7 at 714-389-2245 or 800-389-BAIL. We are standing by now!