Bail Bonds in San Juan Capistrano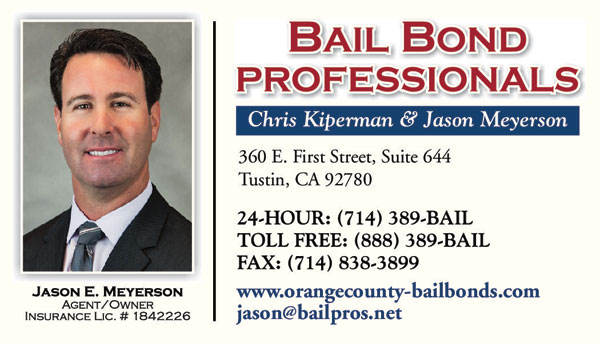 Trustworthy Bail Bondsman in San Juan Capistrano
Bail Bond Professionals is the Orange County's #1 rated bail bond company.  We've been serving this community since 1989 and we pride ourselves on professionalism, honesty and integrity.
Our company was founded by a second-generation bondsman, Chris Kiperman and he, and his partner Jason Myerson have been providing fast, reputable and reliable San Juan Capistrano bail bonds services for nearly three decades.
We provide bail bonds for those arrested in San Juan Capistrano  24-hours a day, 365-days a year.  We can help you and your family with large bail bonds and small bail bonds and we are here to answer all of your questions, day or night.  Our company can help with bail bonds for felonies, bail bonds for misdemeanors and bail bonds for warrants.
Call our office today to learn why Bail Bond Professionals is the #1 most recommended San Juan Capistrano bail bonds agency in Orange County.  We offer flexible payment plans to those who qualify and we are happy to offer free bail bonds advice, 24-hours a day.  We understand that the arrest of a friend or family member can be a very stressful time
Fact about San Juan Capistrano bail bonds
When you start process of arranging bail bonds in Orange County the San Juan Capistrano bail agent will inform you that when you cosign the bail bonds documents you'll be taking full legal responsibility for two things.
The most important thing to know about cosigning is that you're guaranteeing the defendant will go to all of their required court dates.  You are also agreeing to pay the bail bonds fee (premium).  The cost to purchase bail bonds in Orange County, CA is either 10%  or 8% of the defendant's bail amount.
If the defendant's bail has been set at $50,000, the bail bonds fee in Orange County will be $4,000 to $5,000. If the defendant's bail has been set at $20,000, our  San Juan Capistrano bail bonds premium is either $1,600 or $2,000.  
Payment plans are available on approved credit and bail bonds consultations are always free.
Our company accepts many forms of payment including Visa, MasterCard, American Express, Discover Card, debit card and cash.  You will also want to remember that bail bonds fees are non-refundable regardless as to whether the defendant's case is dismissed, if they are found not guilty or of the District Attorney decides to not file charges.
If you need help with bail bonds at the San Juan Capistrano Jail you will want to contact a bondsman for the San Juan Capistrano Jail as quickly as possible.  The bail agent in San Juan Capistrano can help you start the bail bonds application right away.  This will help ensure that your friend, family member, adult child or spouse can get out of jail fast.
Our company provides bail bonds for DUI, domestic violence bail bonds, bail bonds for assault, bail bonds for misdemeanor charges and bail bonds for felony arrests in San Juan Capistrano.
Bail Bonds in San Juan Capistrano – Police Department Procedures
The San Juan Capistrano Police Department is not staffed, or managed, by the city. Law enforcement services are instead provided by members of the Orange County Sheriff's Department.   The OCSD has been providing San Juan Capistrano law enforcement services since 1961.
When someone is arrested in San Juan Capistrano they will not be booked into the Jail.  Defendants will instead be transported to the Orange County Main Jail in Santa Ana to be booked and processed into the system.  Orange County Jail bail bonds can be posted 24-hours a day, 7-days a week.
If you've learned that a loved one has been arrested in San Juan Capistrano you'll want to contact an us immediately because we specialize in San Juan Capistrano bail bonds.  Bail bonds in San Juan Capistrano can be posted at any time, day or night, 365-days a year.
When you contact us, we'll start by asking you to provide as much information as you can about the defendant and the circumstances surrounding their arrest.
The bondsman will ask for the correct spelling of their first and last name, their date of birth, where they work, whether they rent or own their home and if they have a prior history of arrest.  The San Juan Capistrano bail bonds agent will also ask if you're able to provide their address, cell phone number and the contact information of other friends and family members.
If you don't have all of the defendant's information on hand, that's OK.  The bondsman can obtain that information from the defendant after they're released.
We Do Not Charge Annual Fees for San Juan Capistrano Bail Bonds like others do. Don't get stuck having to pay twice!!
Many bail bonds agencies in San Juan Capistrano will charge their clients an annual renewal premium.  This means that if the defendant's case is complicated or the bail set very high, and it takes more than 12 months to resolve, that the cosigners responsible to pay the premium each year  the case is ongoing.  This can get very expensive very fast.
Bail Bonds Professionals does not charge an annual fees for bail bonds in Orange County or for bail bonds in San Juan Capistrano.  We would never take advantage of our clients.  It is our commitment to treat all of our clients with the highest level of integrity and professionalism.
For immediate help with bail bonds in San Juan Capistrano and/or bail bonds in Southern Orange County call our office now at 714-389-2245.  Our company has offices in Tustin and Santa Ana but if it is convenient, we can send a bondsman to you.  We can even appear with the defendant in court, if needed and we'll do this at no additional charge.
We provide the fastest, most professionals services for those arrested in San Juan Capistrano and throughout the Orange County area.  Don't delay.  Call our office now at 714-389-2245 for a free bail bonds consultation.
We look forward to assisting you through this difficult time.
No Collateral Bail Bonds in San Juan Capistrano
Many people are surprised to learn that they may not need to put up collateral for a bail bond in San Juan Capistrano.  Often times it is not necessary and the cosigner may be eligible for what's referred to as a "non-collateralized bail bond" or a "signature bail bond". 
When a client is eligible for a signature bail bond, this simply means they will not be required to put up a car, house, boat or condo as security against the bail bond written.  And while there are times that collateral is needed, the bondsman you're working with will be able to explain why you will, or won't be asked to secure the San Juan Capistrano bail bond with a deeded property.
Property Collateral Bail Bonds
On larger bonds in excess of $100,000 and where property collateral is needed, you'll meet in-person with a licensed Southern California bail bonds agent who is also a notary.  They will help you sign the bail bond agreement forms and you will be asked to sign a deed of trust, which allows us to put a lien against your property until the defendant's case is over.  If you signed up for a bail bonds payment plan, the lien will stay on the property until the defendant's case is resolved and the bail bonds payment plan balance has been resolved.
If you have questions about how bail bonds collateral and/or signature bail bonds work, one of our licensed bail agents in Orange County will be able to answer any and all questions you may have.
About San Juan Capistrano
The city of San Juan Capistrano is located in the southern portion of Orange County, California and it was created around the former site of the Mission San Juan Capistrano.  The mission was founded in 1776 by Spanish Catholic Giovanni da Capistrano.
As such, many of the area homes and shopping centers have been designed to incorporate a Spanish architecture-look.  City records indicate that current structures, along with those built prior to 1900, are among the widest variety of homes in the county.
In addition to being home to one of the state's oldest residential neighborhoods, it is also the home of the Serra Chapel, which is one of the oldest, still-in-use buildings in California.  The chapel was built in 1782 and is known to locals as both "Serra's Chapel" and "Father Serra's Church."
The city government model of San Juan Capistrano is made up of three city councilmembers and a city manager.  The area is part of the state's 36th Senate District and lies within the boundaries of the 73rd state Assembly District.  San Juan Capistrano is also part of the 49th Congressional District.
Demographics and Education
As of the 2010 census, the population of San Juan Capistrano is 34,593, which reflects a modest increase from levels recorded in 2010, when it was learned that 33,826 people lived within the city's limits.
More than a third of households reported having children under the age of 18; 12 percent of households were comprised of a person over the age of 65 who was living alone.
The median household income in 2010 was reported at $73,356.  In contrast, the median household income at the time of the 2000 census was $62,392.  The 2000 census also noted that the median income for males was $47,574, which is a stark contrast from the female median income of $34,821.

This information was not re-tallied during 2010.
Most children in the community attend classes at the Capistrano Unified School District. The city's only public high school, the San Juan Hills High School, also serves the communities of Ladera Ranch and San Clemente. The city is also home to four, private Christian schools including the Capistrano Valley Christian Schools, the Saddleback Valley Christian School, St. Margaret's Episcopal School and the JSerra Catholic High School.
In addition, San Juan Capistrano has two private K-8 schools.  The first, the Mission Basilica School is located on the city's historic mission grounds.  The second, the Rancho Capistrano Christian School is located on the south campus of the Saddleback Church.  The latter is accessible from Interstate 5.