Testimonials
Client Testimonials
---
Jason,
When I contacted your office very early on the 7/23/10, you were very patient and helpful in checking on the status of my son and providing information regarding charges, what to expect, and how to proceed. You stayed in touch with us through a very difficult and trying time. Your professionalism was greatly appreciated and your sincerity in handling the matter helped to ease our concerns.
Again Thank you for your support.
~Donald M.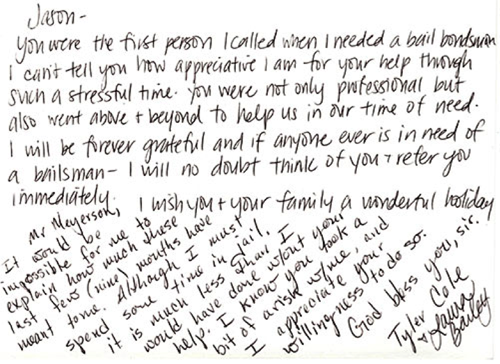 Jason,
You were professional, honest, fast and saved me thousands of dollars. You posted bail for my son at the Orange County Jail last year and you mentioned that your company did not charge an "annual premium". I didn't think much about it at the time but now that his case is past a year old, you've saved me $40,000. Basically, my life savings. I will be indebted to you forever. Thank you so much. I wish you the best in life and business.
~Rachel M.
I just wanted to write and say thank you. When I called I was totally stressed out and I didn't know where to turn. You kept me calm and held my hand through the whole thing. Thank you, thank you, thank you. I hope I never need your services again, but if I do, it's good to know you're there."
~R. Guzman - Vista, CA
"Not asking these guys for help should be a crime."
~D. Jacobson - Brea, CA
Dear Jason,
"You are the very best. I wish I had friends accused of crimes to send to you...but I will encourage them to commit some, as I have the best bail bondsman in the business."
~Norman
It's been 6 years since my family and I were led to Jason. I have been out on bail for over 6 years. Jason has been a man of his word and kept my bond . My case has already been through trial and is awaiting a retrial, if I had picked another bail bonds company i would have been charged a yearly fee that would have put my family in financial ruins. I can't express to anyone who is looking for a bail bond person, how great Jason has been, a real god send!!!!. I'm so grateful for Jason's hands on help. To anyone who is looking for a bail bonds company without hesitation use Jason he can do the impossible.. Thank you Jason for your help and understanding.
~Shaine L.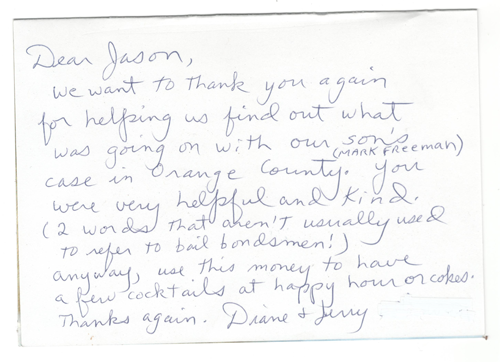 ~Diane and Jerry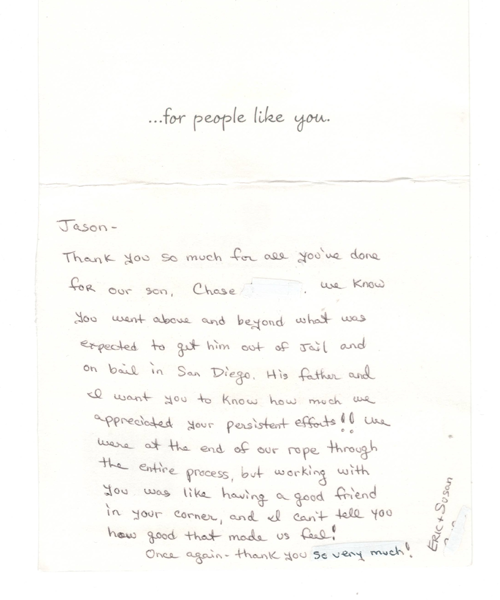 ~Eric and Susan