Bail Bonds in Fullerton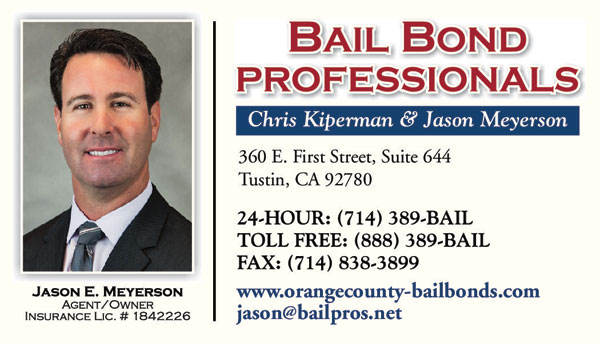 Fullerton, CA, is known for its motto of being "The Education City," but many of its 140,000-plus residents have undergone a very unwelcome kind of "educated" when suddenly arrested, incarcerated, and left unsure about what to do next.
Many innocent people are arrested on such charges as DUI, domestic battery, petty or grand theft, and a host of other charges; and many others are arrested and charged excessively beyond the reality of what really happened.
But regardless of how or when or why you (or your loved one) gets arrested in Fullerton, Anaheim, Orange County, or the surrounding areas, the very first person you should call is a reputable, professional bail bondsman.
At Bail Bond Professionals, we have been helping people get out of jail as fast as possible for many years, and we will know how to rapidly respond to your call for help as well. Contact us anytime 24/7 at 714-389-BAIL OR toll-free at 888-389-BAIL.
Arrested in Fullerton, CA
Those arrested in Fullerton, CA, will likely be held temporarily at the Fullerton Police Department Jail. Here, they may be fingerprinted and booked, but they may soon be transferred to the larger Orange County Jail if the Fullerton jail is at or over capacity.
For this reason, it is extremely important to contact a bail bonds agent as soon as you are able to after being arrested; or, if calling in behalf of a loved one, to contact a bail bonds agency as soon as you learn of the arrest.
Once an inmate is transferred to Orange County Jail or another larger and more distant facility, the process of bailing him or her out will be more complex and time-consuming. We at Orange County Bail Bonds can bail anyone out in a minimal amount of time, but bail-outs at smaller, local facilities almost always take less time - and subject you or your loved one to less time spent behind bars.
The Bail Bonds Process
From the moment you contact us at Bail Bond Professionals, we can move rapidly in assisting you to get your loved one out of jail. In fact, we can arrange everything over the phone - you don't even have to meet with us in person if you don't want to. 
If you aren't sure where your loved one is being held at present, we can use basic information you give us to search police databases and locate him/her. And we can call the Fullerton or other local police department jail to let them know the arrestee will be bailed out, so they won't transfer him/her to another facility.
The paperwork, in arranging the bail bond, can be completed in only 20 to 30 minutes in most cases. And we can arrive at the jail within minutes and post the bail as soon as the arrestee has been booked. That then begins the release process, which also takes time. But because we have the process streamlined and are intimately familiar with both bail bonds law and local jail facility protocols, we get your loved one out of jail faster than most other agencies can manage.
California Bail Bonds Law
In California, there are strict state statutes regulating the bail bonds industry. We at Bail Bond Professionals always follow the law 100%, but be aware there are some disreputable agencies out there that don't. 
For example, a 10% bail bonds premium (fee) on the total bail amount is pre-set by the state as mandatory. No one can legally charge more or less. There are a few exceptions, like a 20% discount (total 8% fee), if an attorney referred you to the bondsman. But anyone offering you bail bonds service at less than the legally set premium puts your bond at risk of being revoked by the court.
Next, realize that there are four ways to get out of jail in California, as follows:
A "cash bond" (California Penal Code Section 1269), which just means you pay the bail in full in cash. Few, however, can afford to do this. Plus, it ties up nine times as much of your money upfront and eliminates the possibility of getting the bond reinstated if it should ever be forfeited by the court.
A property bond (PC Section 1276.5), which allows you to post your equity in any real estate you own as bail. But the value of the equity must be double that of the bail amount, and it takes extra time to arrange the documents - and in the meantime, you are still sitting in jail.
Own Recognizance. In some cases, an arrestee might be let go on their "own recognizance," which means that no bail is needed. The defendant's "community status" like holding a job there for a long time or having their character vouched for by neighbors can be a basis for "OR." But relatively few qualify for OR release, and it isn't even an option with some classes of charges.
Bail bonds (PC 1276). A bail bond is a surety bond. It is a contract involving several parties. First, a state-licensed bail bonds agent provides the full bail amount to the court. Second, the bond cosigner, which is either the arrestee or a friend/relative of the arrestee, agrees to become liable for the full bail amount if the bail bond is forfeited. The cosigner pays a 10% premium on the bail amount. Once the trial is over, the bail money will be returned by the court.
Why Are Bail Bonds the Best Way to Get Out of Jail?
For many, bail bonds are the only way to get out of jail before their arraignment. And it is very difficult to prepare for that arraignment unless you can get out of jail and find and hire a good lawyer to help you build a solid defense. That's the first reason to use bail bonds.
But secondly, jails are dangerous and frightening places. And no one wants to stay in them one minute longer than he or she has to. And you whole life is basically put on hold as long as you are being kept behind bars.
Third, bail is a constitutionally protected right. Unless it is a capital or other extremely severe crime, or unless the court has good reason to think you would flee justice, they have to allow bail. Why not exercise that constitutionally enshrined freedom?
And fourth and finally, if the defendant doesn't show up for his/her arraignment, a cash bail would be irrevocably forfeited. But it is possible for a bail bond to be reinstated (at the judge's discretion) after the defendant finally shows up in court.
What Should I Look for in A Bail Bonds Agent?
It is important to hire an agent who is both licensed and insured. Companies who have been in business for several years, normally have a reputation of being exceptionally good at their jobs. Find out if they belong to any local organizations. The California Bail Agents Association (CBA) and the Orange County Bail Agents Association (OCBAA) are two of the most well known. As members of local organizations and having many years of experience assures potential clients they are experienced and dedicated to doing the best job possible.
It is also important to know where they stand with the California Department of Insurance. If you are interested in learning whether or not they are in good standing, you can look them up on this website:
http://www.insurance.ca.gov/0200-industry/0070-check-license-status
Do local attorneys and clients recommend them?
It is important to know that your bail bonds agent always makes their clients' needs top priority. They must be professional at all times and remain dedicated to helping you every step of the way. A professional agent should understand your personal needs and be able to help you through this difficult time. The agents at Bail Bonds Professionals are available day or night, 24/7. We are here for you whenever the need arises. To speed up the bail bonds process, we can travel wherever you need us. There are testimonials on our website from several of our clients, as well as attorneys we have worked with. We want you to know what others think of our work.
From Posting Bail to Release, How Long Does It Take?
After our agent posts bail, the process takes approximately 3 to 7 hours for your loved one to be released from custody. It may take longer if the facility is busier than normal or the facility is short staff.
Contact Us Today for Help!
At Bail Bond Professionals, focusing on Orange County Bail Bonds, we have been rushing to the aid of people in need for many, many years. Our bail bonds agents are well seasoned and hard-working. We have people on the ground who can be at the jail to post bail within a matter of minutes.
If you or a loved one have recently been arrested in Fullerton, Anaheim, Orange County, or the surrounding areas, do not hesitate to call us 24/7 at 714-389-BAIL OR toll-free at 888-389-BAIL.