San Clemente Bail Bonds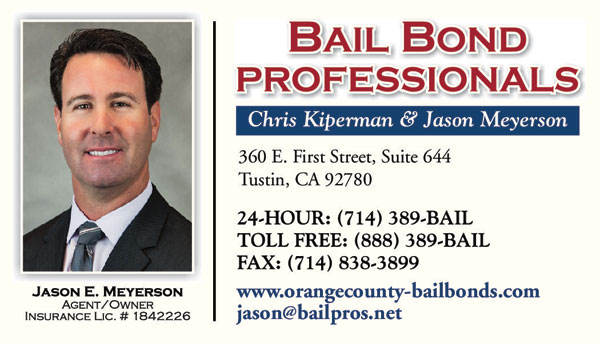 Bail Bond Professionals in San Clemente
Bail Bond Professionals was founded by second-generation bondsman Chris Kiperman. He and his partner, Jason Meyerson, have been providing reliable, professional and fast San Clemente bail bond services since 1989.
We are the #1 ranked bail bonds company in Orange County and we pride ourselves on our integrity, honesty and commitment to helping everyone that calls.  Our company is available to provide bail bonds services for San Clemente Jail inmates 24-hours a day, 365-days a year.
We can help your family with bail bonds for misdemeanors, felonies and unlike some of our competitors, we also provide assistance with large bail bonds. When you call our office, you'll be able to speak with a licensed California bondsman at any time, day or night.
At Bail Bond Professionals, we are committed to working with all of our clients in a compassionate, caring and professional way.  We understand that the arrest of a friend or family member can be a very stressful time which is why we'll do everything we can to help get your loved one out of jail as fast as possible.
How San Clemente bail bonds work
The first step in getting someone out of one of the San Clemente Jail is to contact us as soon as possible. You'll be asked to provide some basic information about the defendant including when they were arrested, what their charges are and how much their bail is. If you don't have all of this information on hand, that's OK.  We can look that up for you in a matter of minutes.  Once we know the charges and their bail amount we can help you get started with the bail bond application. 
When you cosign for a defendant, your number one responsibility is making sure the defendant attends all of their required court hearings until their case is over. You're also taking responsibility for payment of the bail bonds fee. This will be explained to you in detail before you agree to sign.

Things to know about San Clemente bail bonds fees
The cost to purchase bail bonds in Orange County, CA will be 8% or 10% of the defendant's total bail amount.  If bail has been set at $10,000 the fee to hire a bondsman (also known as the premium) will be either $800 or $1,000. If the defendant's bail has been set at $20,000 the San Clemente bail bonds premium will be either $1,600 or $2,000.

You'll want to keep in mind that the bail bond premium is non-refundable and it's not something that will be returned in part, or in full, regardless as to what happens with the defendant's case.
Our company accepts many forms of payment including debit and credit cards, cash, cashier's checks and in some cases, personal checks.  Payment plans are available on approved credit.  Free bail bonds consultations are available 24-hours a day.
What to look for in a San Clemente bondsman
If this is the first time you've needed to hire bondsman you are probably unfamiliar with how bail works or what questions you should ask the San Clemente bondsman during your initial call. 
The most important thing you'll want to look for in an Orange County bondsman is professionalism, experience and reliability.  Bail Bond Professionals has been serving the Orange County area since 1989. Our nearly three decades of experience will help ensure your loved one gets out of jail as quickly as possible.
An inexperienced bondsman is much more likely to make mistakes.  If the paperwork is filled out incorrectly, and the jail makes the agent come back, start over and submit new bail documents, this could delay the defendant's release by several hours.  
When you work with Bail Bond Professionals you can rest assured that your matter will be handed quickly and efficiently.  We have a deep understanding of what the jails require when bail bonds are posted.
Experience matters. Call our office now to learn why we've been ranked the #1 Orange County bail bonds service provider.
24-hour bail bonds in San Clemente
Another important question for your San Clemente Jail bail bonds agent whether they are able to post bail bonds at night, on weekends and during holiday periods.  Just because a bondsman answers their phones 24-hours a day, that's not to say they provide 24-hour bail bonds service.
If your loved one is arrested outside of normal business hours, you'll want to make sure the bondsman can get the defendant's bail bonds posted right away. 
Bail Bond Professionals has been providing around-the-clock bail bonds services for all of the Orange County jails for nearly three decades. You can call our office at any time, day or night, to speak with a licensed, local bondsman in your area.  Call us now at 714-389-2245 to learn how we can help assist your family during this difficult time.
San Clemente Police Department Services
Much like other communities in Southern Orange County, CA, San Clemente does not staff a standalone police department.  San Clemente Police Department services are instead contracted through the Orange County Sheriff's Department.

San Clemente Police Department
100 Avenida Presidio
San Clemente, CA 92672
Phone: 949-770-6011
24-hour San Clemente Police Department bail bonds information: 714-389-2245
The San Clemente Police Department does not have a official Chief of Police. Instead, they have one Lieutenant who serves as the acting chief of the SCPD.
The department is also comprised of five Sergeants, 29 patrol deputies, 3 Investigators, a School Resource Deputy, four motorcycle traffic deputies, a Community Liaison Deputy and nine civilian staff members.
Non-sworn staff position include three office personnel, a Crime Prevention Specialist and four Community Services Officers and a staff assistant. The sworn and non-sworn staff work closely to ensure that crime prevention efforts, parking enforcement, traffic enforcement, community support and patrol details are executed efficiently and professionally.
City officials have confirmed that the San Clemente PD has one of the longest standing crime prevention programs in the county.  The community boasts more than 600 neighborhood watch groups; at the current time, its estimated that San Clemente has roughly 350 neighborhood watch captains.
Another key component of San Clemente Police Department services is the Retired Senior Volunteer Program (RSVP).  RSVP officers assist the department by providing vacation home checks, visiting homebound seniors, helping write parking citations and assisting with traffic control.  The also provide extra assistance at the beaches, perform foot patrols and help out at special events.
Residents and police officers describe San Clemente as a safe place to live.  Although the city has seen some minor increases in property crimes, such as burglary and auto theft, violent crime rates have remained very low.
What to Expect When Someone Is Booked at the San Clemente Jail
San Clemente Jail services are contracted to the Orange County Sheriff's Department.  This community does not have its own detention facility so instead, people who are arrested within this community will be taken to the Orange County Main Jail in Santa Ana to be booked and processed.
Orange County Main Jail
550 N. Flower Street
Santa Ana, CA, 92073
24-Hour Orange County Men's Jail bail bonds information: 714-389-2245
Women who are arrested in San Clemente will be taken to the Orange County Women's Jail.
Orange County Women's Jail
550 N. Flower Street
Santa Ana, CA, 92073
24-Hour Orange County Women's Jail bail bonds information: 714-389-2245
If your loved one calls you from inside one of the Orange County jails, you'll want to do your best to remain calm.  You will also want to remember that all outbound calls from the jails are recorded, and anything the defendant says could potentially be used against them in court if their case goes to trial.
When you speak with the defendant ask for them to provide only the basics: when were they arrested, where were they arrested, how much is their bail, what are their charges and is there anyone they need you to call.  Do they need to be called off work?  Do they have children that need to be picked up from school or daycare?
Let them know you're doing everything you can to help get them out of jail fast.  You may also want to let them know that it is not unusual for the arrest and booking process to take several hours.  Not only do they need to be interviewed, have their mugshots and fingerprints taken and have their information entered into the system, the jail will also check them for outstanding warrants.
The warrant check often takes 4 to 6 hours to complete and no one is allowed to post bail bonds for a San Clemente arrest before the warrant results are returned to the jailer.
You'll also want to keep in mind that much like there is a process to book someone into the system, the jail has another process that they need to undergo before a defendant will be released from custody. On average, defendants will be released from jail between 4 and 6 hours after their bail bond are posted.
It's not at all unusual for someone to be at the Orange County Jail for 8 to 12 hours in total, from the time they get booked in to the time they are released.
If you have questions about how bail bonds in Orange County work, we can help.  Call our office 24-hours a day, 365-days a year to speak with an experienced, professional, local bondsman.  All calls are handled with the utmost confidentiality and we are happy to provide free bail bonds consultations at any time, day or night.
Demographics and History

The community of San Clemente is located in south Orange County and many of the area residents refer to it as the Spanish Village by the Sea.
The city was founded spans 18.7 square miles and at current, it's estimated that more than 64,200 men, women and children live within its boundaries.  San Clemente boasts more than 300 days of sunshine each year, which gives residents and their guests plenty of time to enjoy the area's many coastal trails, hiking trails, golf courses, beaches and 20 community parks.