Bail Bonds in La Palma
The Bail Bonds Professionals located in La Palma are here to help you with all of your bail bonds needs if a loved one has been arrested by the local or county police. We work 24 hours a day, 7 days a week, just like the La Palma Police Department.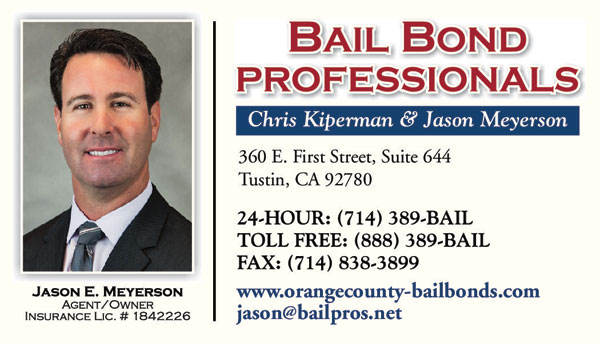 Call Us Now 888-389-2245

We Provide:
Free Bail Information and Consultation 24/7/376: When you call our office, you will speak to a licensed agent. He or she will explain the bail bonds process and will do so in terms you can understand. We can also offer you free bail bonds information as it pertains to the defendant.

La Palma Bail Bonds Options: Cash, checks and credit cards are welcome in our office. If, for some reason, you can't cover the full bond amount, we can help by offering several different flexible, interest free payment plans as long as you qualify.

At La Palma Bail Bonds, our agents can arrange bond via fax, phone, email or in person. We are also willing to meet you at the place of your choice, jail, residence, office or work location.

La Palma Police Department Booking & Bail Process

The entire city of La Palma, California, is constantly being monitored and patrolled by the La Palma Police Department. There is a small city jail located in the police station where defendants will be held until they are transferred to the larger Orange County Main Jail. The Main Jail is located in Santa Ana, California. The La Palma Police Station Jail can accept bail for inmates if it is posted prior to their transfer. If you are interested in posting bail there, you will need to call the jailer at the police station and let them know so they can keep the inmate at the facility.

The same booking and release processes are followed at the La Palma Jail as with any other facility in the state. The booking process can take from one to two hours. Once bail has been posted, the defendant may be released in as little as 10 to 15 minutes after they have been booked. The jail is prohibited from accepting any bond until every step of the booking and release process has been completed. A defendant is booked to verify their identity and to determine whether or not they have any outstanding warrants or holds that would prevent them from being released.

If you are in a hurry to complete the process, you can meet one of our licensed agents in the La Palma Jail lobby to finish the paper work. Our paperwork is simple and easy. It takes approximately 15 minutes to complete and approve a bond application. They can also be taken care of over the phone, fax or email. We have agents who are local to La Palma and are within 15 minutes of the city jail. This expedites the process and can prevent the transfer of the inmate to the larger county jails where the booking and release process can take much longer to complete.

When a friend or loved one is arrested, it is normal for you to have questions. Call our office any time, day or night at 888-389-2245. Our licensed agents are in the office and ready to answer your phone call. Your questions will be answered free of charge and we will not require that you use our services.