Bail Bonds in Costa Mesa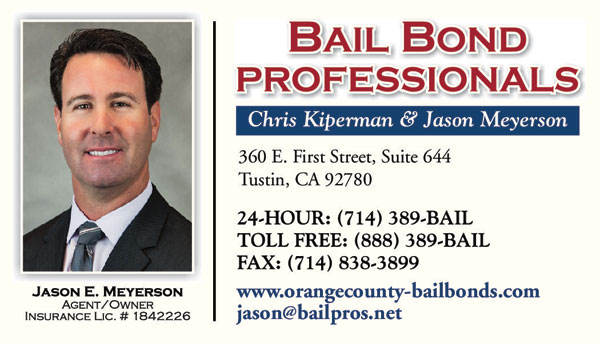 POLICE ARREST IN COSTA MESA
Getting arrested can be extremely stressful for those incarcerated, as well as their loved ones. After suspects are arrested in Costa Mesa, they are taken to Costa Mesa jail and police facility and booked. If you are arrested and charged with a crime in Costa Mesa you will be held for an undetermined amount of time before being sent to the Orange County Jail in Santa Ana. Their address is:
Orange County Santa Ana Jail
550 N. Flower Blvd.
Santa Ana, CA 92701
Phone: (714)647-4667
Costa Mesa Police
99 Fair Drive
Costa Mesa, CA 92626
There the defendant will be booked and a decision will be made if bail is required for their release. At this time they are allowed one phone call. This call should be to someone who can help like a family member or friend that can help arraigne bail. It is important to identify where the person is being held, what the charges are, how much the bail amount is and what their booking number is if they have one.
Costa Mesa, CA
Costa Mesa, California, is one of the most beautiful and exciting places to live in all of Orange County. Known as the "City of Arts," it's the cultural capital of the county, and the annual Orange County Fair in July makes the city come alive with some one million visitors passing through.
But when you suddenly find yourself or a loved one arrested on criminal charges in Costa Mesa, CA, all of the appeal and charm of the Costa Mesa lifestyle quickly fade into the background. You are concerned about only one thing in the near term: how to get out of jail fast so you can hire an experienced attorney and be fully ready when it's time for your arraignment.
Arrested in Costa Mesa, CA
For the most part, those arrested in Costa Mesa are first of all taken downtown to 99 Fair Drive, to the Costa Mesa Police Department Jail. There, the arrestee will be booked, including a Livescan fingerprinting and a "mug shot." 
But as the Costa Mesa Jail only has 32 beds, it can easily get overcrowded. It's common, therefore, for inmates to be transferred to larger Orange County jail facilities nearby. If that happens, the dangers and discomforts of spending time in jail will increase, and it will take longer to book and later release the inmate.
That's why it's important, if at all possible, to contact a local, efficient bail bondsman before an inmate is transferred to a larger facility. It will save a lot of time. And it's always true that the earlier you call, the earlier you can get your loved one released.
At Orange County Bail Bonds, we can minimize the amount of time you spend behind bars regardless of where you are being held, and we are intimately familiar with the inner workings of the Costa Mesa Police Department Jail (it's protocols, schedules, and personnel), as well as of other Orange County facilities.
How Can Bail Bonds Help?
It is your Constitutional right to get out of jail on bail, provided you are not facing a capital crime or a charge that would make it highly likely for the accused to flee justice rather than wait for their arraignment and trial.
In theory, bail enables the accused to get out of jail and prepare for his or her court appearances. But, since bail is often set very high (on purpose, to discourage flight from justice), it is impractical for most people to post bail in cash in full upfront.
Bail bonds are the solution to this dilemma, and they are by far the most common means of getting out of jail fast in Costa Mesa and Orange County.
A bail bond is a surety note posted with the court by a state-licensed bail bonds agent. This guarantees the court the full bail money in the event the defendant does not show up for his/her court dates. If the defendant does show up, then bail will be returned to the posting party after the trial is over.
A cosigner must sign the bail bonds agreement as well, guaranteeing the bail bondsman that he/she will reimburse him for the full bail amount if the defendant does not appear in court. The cosigner is usually either the arrestee him or her self or, more commonly, a friend or relative of the arrestee.
The reason to use a bail bond is that you only have to pay a 10% premium rather than the full bail amount. This is 10% of the total bail, and the premium rate is set by state law, meaning no one can legally charge more or less - except there are certain special situations where a 20% discount (thus, 8% premium) can be charged.
While some few get out of jail in Orange County or O.R. (Own Recognizance) without bail, by paying cash bail, or through by using a property bond as bail - these are not viable nor practical options for most people. But bail bonds provide a fast, convenient, affordable way to post bail, get released, and get ready for your court hearing.
Why Choose Orange County Bail Bonds?
It's true there are many bail bonds agencies operating in Orange County, CA, but it's also true that many of these organizations are less than reputable or don't have adequate experience to best serve their clients.
Orange County Bail Bonds is different. We've been operating in Costa Mesa and Orange County for many, many years, and we have deep ties to local communities.
We know the details of California bail law, of the Orange County Bail Schedule, and of local jail protocols. And we also know many of the jail officers and bail judges by name.
We have a long list of satisfied clients and a high customers satisfaction rate. Our customer reviews on Yelp and elsewhere online are overwhelmingly positive, and we get a large percentage of our new clients on referral from out past clients.
So what is it that makes Orange County Bail Bonds stand out from the crowd? First of all, we treat you with respect and dignity. We respect your time, your schedule, and your confidentiality.
We make it easy to arrange a bail bond over the phone, so you don't even have to step foot in a jail facility - or, we can meet you in our office, at the jail, or at another location that's convenient for you, such as at your place of employment.
Also, we don't charge hidden "surprise" fees like so many other bail bonds companies. We are transparent and keep our fees to a minimum to make bail bonds as affordable as possible to our clients.
Finally, we are fast. We can complete all necessary paperwork in 20 to 30 minutes or even less. We have agents on the ground in and around Costa Mesa who can meet you with only minutes' notice. As soon as the arrestee is fully booked, we can immediately post bail and begin the release process. 
Our bail bonds services are fast, hassle-free, convenient, and professional. And if you can't afford the full 10% premium upfront, we work with you to create a workable payment plan. Depending on your credit score, we may even be able to provide no or very low interest financing, with no or low collateral.
Contact Us Today for Immediate Help!
At Orange County Bail Bonds, we are standing by 24/7, 365 days a year, poised to spring into action and move quickly to get you or your loved one out of jail.
We can bail him or her out at the Costa Mesa Police Department Jail or anywhere else he or she is being held in Orange County or throughout Southern California.
To learn more, or for a free no obligation bail bonds consultation, call us at 714-389-2245. We can help you understand your options and can immediately get started on bailing your loved one out.