Bail Bonds in Irvine
If your loved one has recently been arrested in Irvine, CA, you may be in need of professional bail bond services to get him or her out of jail fast. We at Irvine Bail Bonds are available 24/7/365 to assist you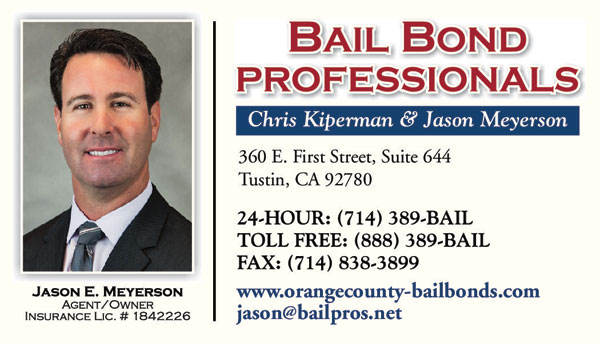 with all of your bail bond needs. Do not hesitate to contact us today at 888-389-2245 for immediate attention to your case by a fully licensed, bonded, and insured bail bond agent. 
Life in Irvine, California, is generally serene and beautiful. The climate is warm and pleasant year round, the varied recreational opportunities of The Orange County Great Park are always at hand, and sandy Orange County beaches and blue sea waters are but a stone's throw away.
No wonder Irvine is growing, and no wonder so many come here to study at the University of California, Irvine.
But if you or a loved one are suddenly arrested in Irvine, CA, that changes everything. Your world is focused on one thing only - getting out of jail as quickly as possible. And arrests in and around Irvine, unfortunately, are anything but uncommon. And you don't have to be guilty to be arrested, charged, and booked.
Arrested in Irvine, CA
If you are arrested in Irvine, you'll likely be taken to the Irvine Police Department jail, at least initially. The local jail in Irvine is relatively small, so there's a good chance you could be transferred to the much larger and more crowded Orange County Main Jail in Santa Ana. 
To reduce your time spent behind bars to an absolute minimum, it's critical you contact us while you or your loved one are still at the Irvine Police Department on 1 Civic Center Plaza in downtown Irvine. Booking and release times are much shorter there than at Santa Ana or other larger facilities. But regardless of where you are being held, we at Orange County Bail Bonds have the expertise it takes to get you out of jail as fast as possible.
Once arrested and charged, you will have to be booked. But we can post the bail bond as soon as the arrestee is fully booked so that the release process can begin right away.
Also, we can prepare all the necessary paperwork for your bail bond agreement, including arranging the financial end, in only 20 to 30 minutes in most instances - even if done entirely over the phone.
We have agents on the ground in and around Irvine, and throughout Orange County, who can respond to your urgent call for help within minutes. And we keep our lines open 24/7365, holidays inclusive, so that we may better serve you in your hour of need.
What Exactly Are Bail Bonds?
The US Bill of Rights guarantees your right to get out of jail on bail, provided you are not being charged with a capital offense or an offense whose penalty would make flight of justice unreasonably likely. However, if you have failed to appear in court in the past after being let out on bail, or if the judge deems it too risky, bail could be denied.
In the large majority of instances, however, a bail amount is set in accordance with the Orange County Bail Schedule, with adjustments possible to conform to the details of your case.
Bail is often set in the thousands of dollars range, to make it a strong deterrent against fleeing justice; but that creates a problem, because most people can't produce "cash bail" in full upfront to bet out of jail.
A few people may get out of jail on O.R. (own recognizance) or through a property bond, but most use a bail bond because it's the only affordable option that can get them out of jail fast.
A bail bond is a surety note for the full bail amount, which a state-licensed bail bonds agent posts with the court in your behalf. Either you or a loved one must then cosign the bond. The bail bondsman becomes liable to the court for the full bail money should the defendant fail to show up for his/her arraignment; and the cosigner in turn becomes liable to the bail bondsman.
It is possible for a bail bond to be reinstated by the presiding judge once the defendant in brought to court - even if through a bounty hunter; but reinstatement is at the judge's sole discretion. A cash bond, however, can never be reinstated if forfeit - another good reason to use  bail bonds!
How Does the Bail Bonds Process Work?
California state law sets the premium (fee) for bail bonds services by a licensed bail bonds agent at 10% of the total bail amount. The premium can neither be more nor less, except in certain instances where a 20% discount applies, making the fee 8% in effect.
A bail bond makes bail affordable since paying a tenth of bail is much more doable than paying the full amount. Nonetheless, when bail is high, say, $10,000, $20,000, $100,000, or higher, even the 10% premium can be difficult or impossible to pay upfront.
We at Orange County Bail Bonds understand that, and therefore, we offer financing and reasonable payment plans, often with little down and very low interest. Some people may even qualify for no interest, nothing down loans on the premium; but this of necessity varies on a case by case basis depending on the cosigner's credit score.
Whether or not collateral is needed to receive financing, and if so what kind and how much, also varies greatly.
However, we at Orange County Bail Bonds always work with you and do everything possible to get your bail bond and/or your affordable payment plan approved.
We can draw up the papers rapidly and guide you through them. Again, this may take less than 30 minutes. And we can meet you in person at the jail, at your home or place of employment, or somewhere else you prefer - or we can complete the transaction over the phone, and you never have to step foot in a jail to bail your loved one out. It's 100% up to you.
Once the paperwork is ready and you've paid the premium or secured financing, we can post bail immediately upon your loved one being fully booked. The release process often begins immediately.
It can take anywhere from half and hour to 6 to 8 hours to bail someone out - it all depends on where they're being held and how busy the facility is at the time. But our local knowledge of jail facilities in Irvine, Orange County, and throughout Southern California, allows us bail our clients out in as little time as possible.
Why Choose Orange County Bail Bonds?
We at Orange County Bail Bonds have a long track record of serving Irvine and other local communities in Orange County with top-tier bail bonds services.
We are familiar not only with all the details of California bail and bail bonds law, but also with local court processes and jail protocols. We know many jail officers by name, and they know who we are - and that tends to speed things up quite a bit.
We offer affordable fees and financing plans to make a bail bond a viable option to many who could otherwise not afford one. We tell you about all fees upfront, and we always treat you with respect, integrity, and professionalism.
We also take the time to explain to you the bail bonds process and to inform those bailed out of their arraignment date and the terms of their bail.
Feel free to contact us 24/7 at 714-389-2245for a free, no obligation consultation!