Co-Signing on a Bail Bond? Know the Facts Before you Sign
by ~Annie Johnson

Co-signing a bail bond means that a person signs a promissory note or an indemnity agreement financially obligating themselves to pay the full amount of the bond if the accused person does not appear in court. Once the bail bond has been co-signed, the accused will be released from jail pending resolution of the charges against him or her by a court of law.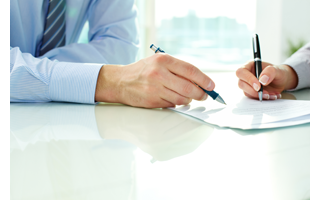 Many times, co-signing involves pledging tangible property, such as cash, cars, homes and other items. This ensures that the bail bondsman will get the money back that he or she has pledged with a surety bond to the court. If the accused flees and cannot be found and taken to court within a certain amount of time, the co-signer must either pay the entire bond or surrender the property that was pledged to the bail bondcompany for collateral.
A co-signer does have certain rights. If the he or she believes that the accused will not appear in court, he or she can contact the bondsman and request that the bond be withdrawn. The bondsman will then have the accused picked up and returned to jail.
According to a national bail website, the bail bond company will receive a percentage of the bond as his or her fee for guaranteeing the bond and securing the release of the accused. The fee is usually 10 percent of the total amount. That portion of the bond must generally be paid with cash and will not be returned to the co-signer.
Below are some important things to know about co-signing a bail bond
The accused will be released from jail.
The co-signer has the authority and duty to make sure the accused appears at all court hearings and meets any other bond requirements.
The co-signer can request stipulations before co-signing, such as a requirement that the accused attend a drug treatment program or undergo a mental health evaluation.
If the co-signer becomes uncomfortable with the accused actions, such as other illegal acts, he or she can ask the bail bond company to cancel the bond and return the accused to jail.
If the accused flees or refuses to go to court, the co-signer can contact the bail bond company and let them know where the accused is so that he or she can be picked up and returned to jail.
Not everyone can co-sign bail bonds. The person must be a citizen of the United States and have lived in the same area for a predetermined period, have stable employment and have sufficient credit. Laws may vary by state.
Tags: Bail bonds, bail bond laws