Bail Bond Professionals Inducted into ExpertBail National Network of Bail Bond Agents
Orange County bail bonds agency enters prestigious national network of bail bond providers.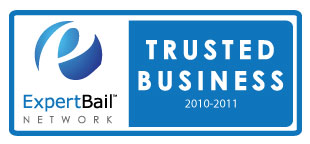 ORANGE COUNTY, Calif., (October 26, 2010)—Bail Bond Professionals, a leading Orange County bail bonds agency providing California bail bonds, announces its induction into the ExpertBail national network of professionals, effective Sept. 1, 2010. ExpertBail is the nation's largest network of trusted bail agents and consists of an elite group of bail bond providers committed to raising the bar in the bail industry and changing the negative perceptions that currently exist.
The ExpertBail network was developed by the oldest and largest family of bail bond insurance companies, AIA. With ExpertBail, communities across the United States now have a straightforward resource for information on and how to find the most professional and quality bail agents in their areas.
"There are dramatic differences between bail agencies, and it's very difficult for consumers to know good agents from bad," says Jason Meyerson, owner at Bail Bond Professionals. "That's why I'm proud and honored to be part of the ExpertBail network, which includes only the most experienced and professional agents in the bail bond industry. I'm also excited to help expand the ExpertBail network to include additional Orange County bail bonds providers, giving more people in our community peace of mind when choosing a bail agency."
Each ExpertBail inductee has met a set of criteria that assesses the level of experience, professionalism, efficiency, responsiveness and trustworthiness the bail agent brings to the community. Those who seek approved California bail bonds agents can access the network online at ExpertBail.com, via a mobile application or simply by looking for the ExpertBail "Trusted Business" logo on a bail provider's website.
"One doesn't have to look far to see how poorly bail agents and the bail industry overall is perceived by consumers," says Eric Granof, chief marketing officer for AIA. "We believe that these poor perceptions are due to an overdramatized influence from Hollywood, the media and a few bad apples. The reality is that the majority of bail agents are hard-working people who live, work and support their communities just like everyone else.
"In fact, the ExpertBail network contains agents that have unique backgrounds ranging from former U.S. Marshals to school teachers to fire captains. Agencies like Bail Bond Professionals are part of this network because they are committed to raising the bar in our industry, breaking the stereotypes and showing people the true role that bail agents play, not only in the criminal justice system, but also in our communities. "
As a California bail bonds provider, Bail Bond Professionals has offered expert Orange County bails bonds for more than 20 years and is an owner-operated agency. Owner Meyerson directly serves clientele with bail bond services that uphold ethics set forth by professional bail associations such as Orange County Bail Agents Association (OCBAA), California Bail Agents Association (CBAA) and Professional Bail Agents of the United States (PBUS). Currently, Meyerson is vice president of OCBAA.
About Bail Bond Professionals
Headquartered in Orange County, Calif., Bail Bond Professionals provides expert bail services to Southern California and has done so for more than 20 years. Bail Bond Professionals operates with a mission to provide value to clients and uphold the ethics of the bail bonds industry. For more information about Bail Bond Professionals, visit http://www.orangecounty-bailbonds.com or call (888) 389-2245.
About ExpertBail and AIA
ExpertBail is the bail bond industry's first national bail bond network and operates with a mission to exceed the community's standards of bail. Comprised of the most experienced and highest quality bail agents in the industry, ExpertBail helps consumers reduce the clutter in the bail marketplace and directs them towards trusted and proven bail agents in a simple and transparent way. Expert Bail is backed by AIA, the oldest and largest family of bail bond insurance companies. With more than 150 years of stability, trust and knowledge, AIA backs every bond written in the ExpertBail network and operates with a focus to help people through difficult times. For more information on ExpertBail, visit http://www.expertbail.com/. To learn more about AIA, go to http://www.aiasurety.com.