Bail Bonds in La Habra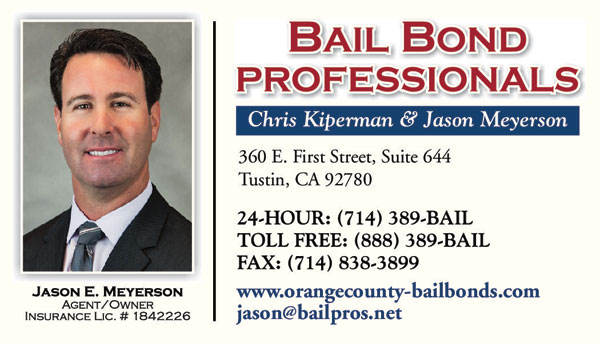 You get a frantic call from a loved one who has just been arrested. What's your first step? If you live in La Habra, or anywhere else in Orange County, California, your first phone call should be to the Bail Bond Professionals. When you call 888-389-2245, a bail bonds agent will pick up the phone. Even if you call in the middle of the night, you will always speak to a live agent. Our agents understand the stress, confusion, and frustration that goes along with an unexpected arrest. We've seen it all and know what you're going through. That's why we will do anything we can to help you get through the process.
Bail Bonds in La Habra
Our agents at the Bail Bond Professionals have years of experience working with bail, bonds, and families in need. We are fully licensed and bonded according to the laws of California and can work anywhere within the state. All you have to do is call our office, fill out an application and secure the bond by a paying a 10% non-refundable, non-negotiable premium. As soon as the initial paperwork has been filled out, the agent will be on their way to you or your loved one and freedom will be around the corner. Our agency has worked very hard to build a solid relationship with law enforcement agencies and court systems throughout California to make the entire transaction smooth.
The Booking and Release Process
After an arrest, the defendant will be taken to jail and booked. The booking/intake process can take anywhere from two to six hours depending on the case and how busy the jail is. During the booking process, charges will be filed and a bond amount will be assessed. If the bond is posted, the release process will begin. Releasing the defendant can take up to eight hours, again depending on how busy the jail is and when the bond was posted.
If you find out that you have a warrant for your arrest and have not been taken into custody, call the Bail Bond Professionals as an agent will work with you to complete the application and secure the premium. Once all the loose ends are wrapped up, both of you will go to the jail where you will turn yourself in. While you are going through the booking process, the agent will be posting your bond so the release process can begin. You will not spend any time in jail but you will still be expected to comply with the court's directions.
Understanding Bail Bonds
Almost everyone who enters the office has questions about how the bail bonds process works. The paperwork and the premium are easy to take care of. Once the bail bond agent posts the bond and the defendant is released, the next step is making sure both the defendant and the co-signer understand what is expected of them. As a co-signer, you are responsible for making sure the defendant fulfills their obligations to the court, including attending their hearings. If not, you will become responsible for the entire bond amount and will be immediately due and owing if the defendant cannot be produced for court.
The defendant also has several obligations they must be aware of. In addition to attending court, they must also remain within the court's jurisdiction. It's also important that they remain in regular contact with the courts and their bail bond agent. They must report any changes to their personal contact information, residence, or employment. If further crimes are committed, it may affect their current bond so avoiding any additional trouble is essential. In some cases, the defendant may be required to attend drug and alcohol classes or submit to random drug tests. This isn't true for everyone, but the court may order it in certain situations. If there are any questions concerning what a defendant can or cannot due or when their court date is, call your bail bond agent immediately. They can give you the answers you need.
The Courts
If you've been arrested, you will have to appear in the court for that particular jurisdiction. In Orange County, La Habra residents may be required to appear at the North Justice Center located at 1275 North Berkeley Avenue in Fullerton. If you miss court or have questions, call 657-622-5600 (civil) or 657-622-8459 (criminal). They will be able to answer your questions and give you all of the information you need concerning your case and court dates.
Your bail bond agent works hand in hand with the court system in keeping your information up to date. That is why checking is so important. If you happen to forget your court date or something occurs that prevents you from appearing as ordered, call the court immediately. They will work with you and set a new court date. Your bail bond agent will also receive the information and the two of you can work together to make sure everything goes as it should. Your bail bond agent will even attend court with you if you want them to.
Professional, Courteous, 100% Confidential
The agents of the Bail Bond Professionals pride themselves on providing each client with professional and courteous service that is 100% confidential. Not everyone needs to know your business. It's up to the agent to ensure that your privacy is kept intact. No information will be released to outside parties without the permission of either you or the defendant. It's their goal to not only protect your privacy but also protect your rights. Each of our agents has years of experience and the knowledge necessary to handle your case in a professional and respectable manner.
Residents who live in the La Habra area are encouraged to call our offices if you need a bond to be written. Our prestigious agency has a reputation of being both professional and reliable. The ultimate goal is to make sure each defendant is treated fairly and that their rights are protected. Phone calls to the office are always answered by a person and not a machine. An agent is available 24 hours a day, 365 days a year to make sure you have everything you and your loved one needs. Our agents will work with you throughout the entire process so that you understand everything that is going on.
An arrest can result in financial difficulties for everyone involved. Not many people have extra money laying around to cover the cost of a bond. The agents at Bail Bond Professionals can help. As soon as you get the phone call, contact one of our steadfast agents. Within a few minutes, an agent can be on their way to pick up the defendant so they can return home and go back to taking care of their family. Don't let the stress and frustration get in the way of protecting your loved one's rights. Call our office as soon as possible at 888-839-2245. If you have questions or concerns, talk to one of the agents. We can provide you with the answers you need to make an informed decision.