Bail Bonds in Los Alamitos
No matter where, no matter when, if a friend or loved one has been arrested by the Los Alamitos Police, we can help you. Our bail bonds professionals are here when you need us.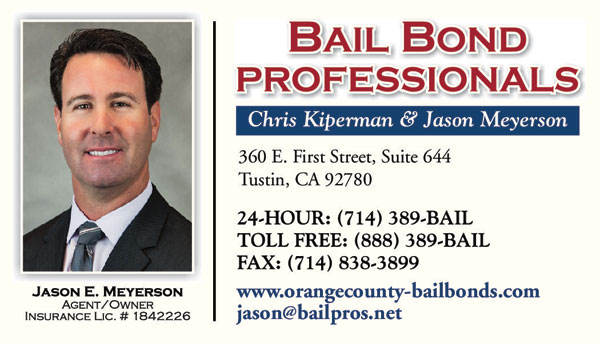 Call us now at 888-389-2245

California's Lowest Bail Bonds Rates

We provide 24/7 free information and consultations regarding the bail process.

Our Bail Bond Professionals are well respected in the community of Los Alamitos. Our agents are friendly, professional, compassionate and expeditious. We understand that time is of the essence when you need to get someone out of jail.

Our Values

The agents at Bail Bond Professionals in Los Alamitos know how upsetting and frustrating it can be if a family member or friend ends up in jail. You want your loved one at home without them having to spend any time in jail. Being in jail can be a traumatic experience and can lead to expensive consequences. These types of situations can also be extremely embarrassing. We truly feel for the defendants. That is why we do what we do to help during these trying times. We are a full service bail bonds agency, licensed to do business anywhere in the state of California. We are local to the Los Alamitos community and can provide bail bonds services and legal help wherever it is needed any time of the day or night. We also work weekends and holidays.

Understanding how our bail bonds operate

Bail bonds are also known as surety bonds. Most of the arrests that take place in Los Alamitos have to do with drugs, shoplifting (and various other forms of commercial theft), domestic violence and DWI/DUI. We also handled other types of crimes that can be quite different with situations that end up being quite unique. After an arrest, a friend or loved on usually calls us to find out about bail. Once we have the necessary information to evaluate what our risk would likely be, we will be able to let you know if we can handle your case. We will need to know all of the facts about the case, how long they have been in jail, whether or not they have a job, their charges and any pertinent criminal/arrest history.

If the defendant is eligible for bail and the co-signer agrees to the conditions listed in our contract, they will fill out and sign a bail bond application, an indemnity agreement and the receipt. Our applications are processed within minutes and can be handled over the phone, through an email, via fax or by coming into the office. We will also come to you if that is what is needed.

Our office charges a 10% fee (of the full bail amount) as required by California state law. We also offer flexible, interest friendly payment plans. If a company offers a cheaper rate, they may not be working within the constraints of the law. Companies who do this may be trying to boost their business or take business from other agencies. This is not a good idea and can tamper with any financial arrangement you may make in the future. Always remember, the bail bond process cannot start until the booking process has been completed.

There are five possible options for release when it comes to getting out of jail. They include: citation release, property bond, cash bail, own recognizance or a cash bond. If you want more information about any of these types of bonds, please call us today at 888-389-2245.

Why you should choose us.

The main reason for choosing our agency is that we are local to Los Alamitos. Our agents work close to home and we can arrange an in-person meeting whenever you need it. Our agents are on call 24 hours a day 7 days a week and they will be there when you need us.

We cater to all language groups. Specifically we speak Spanish (Hablamos Espanol).

We have a courteous team of experienced professionals to assist you when you need us most

Call 888-389-2245 to talk to one of Los Alamitos' Bail Bond Professionals today.