Bail Bonds in Yorba Linda, CA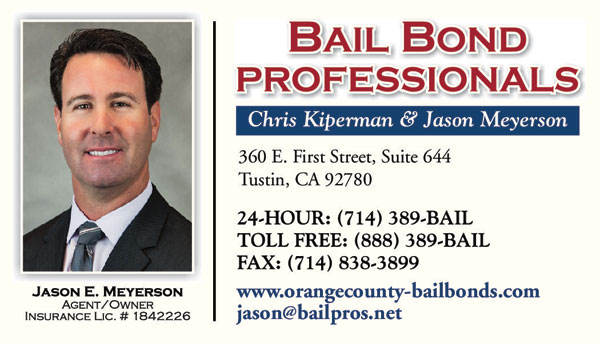 Bail Bond Services and Benefits:
Experienced, Professional Agents
Knowledgeable, Friendly Staff
We will meet you wherever you need us to.
Payment plans that offer zero down.
Available 24/7/365
At our bail bonds agency in Yorba Linda, CA, we work hard to keep our clients satisfied. We serve our clients with respect, prompt service and professionalism. Contact the Bail Bond Professionals today at 888-389-2245 and talk to our knowledgeable staff if you need help or just want your questions about bail bonds answered.

Call Us Now at 888-389-2245 for Immediate Service

Our agents in Yorba Linda are available to help you with your bail bonds needs. We are able to post bail throughout the state of California. Much of our business is the result of referrals. We have a large network of attorneys and former clients who continually refer their friends and clients to our office.

We work extensively with a large number of criminal defense attorneys located in various areas of California. These attorneys are trying to offer their clients the best possible advice as well connect them with bail bonds agents who are highly skilled at doing their jobs. We handle several different types of bonds including criminal, surety, traffic and immigration bail bonds. In Yorba Linda, we can handle all of your bail bonds needs.

We have worked extensively with the public, the courts, the inmates and custody personnel and know each of their needs. For the last 20 years, we have worked hard to provide the best possible service to all parties. When it comes to bail bonds, we are extremely easy to work with.

Why Should You Choose Bail Bond Professionals?

Experience

Situations occur every day that are unique. Agents who do not have experience with how law enforcement and the judicial system of California works, can be at a distinct disadvantage. An experienced California bail bonds agent understands the laws of the state, court procedures, arrest procedures, bail bonds and release processes. Our Yorba Linda bail bonds agents have years of experience and take great pride in the work we do.

Qualitative Service

We offer the highest quality services possible. Our Yorba Linda agents are always available to help you. When you call our office one of our dedicated professionals will be there to answer your call. All of your questions will be answered thoroughly and honestly. We respect our clients and want each of them to know how much we care.

Affordability

We understand that when a person is in custody, there life stops. They can't work and they cannot take care of their family. It can be very difficult to do almost anything, including build their defense for trial. Our interest-free, flexible payment plans are available to our clients who qualify for them. If you need your money to hire an attorney or are having trouble raising the entire bond amount, call us!

Ethics

We will learn as much as we can about the defendant and their circumstances. We can determine if posting bail is going to be cost effective and whether or not it is a wise decision for everyone involved. Once we have considered every option, we will sit down and discuss the situation with you and let you know if a Yorba Linda bail bonds agent will be able to assist you in any way.

If you would like more information on Yorba Linda Bail Bond Service visit us today! We can help you with local cases as well as those across the country. If you are short on funds and need help securing a bond, we can do that to!