Bail Bonds in Cypress, CA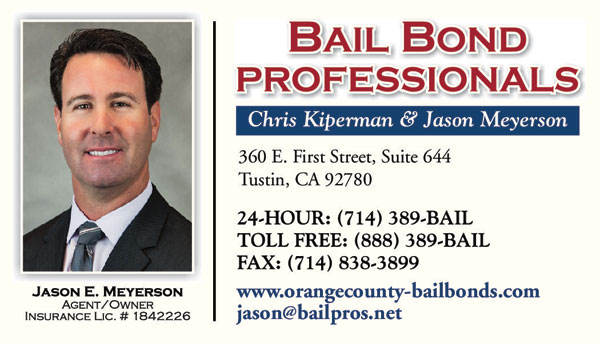 Cypress BAIL BONDS SERVICES
Our bail bonds agents are here to serve Cypress, CA and the surrounding areas.

Our Bail Bond Professionals agents are knowledgeable, friendly and efficient.

Every bail bonds agent on our payroll is licensed and bonded according to state requirements. They are high trained professionals who know their job and do it well. Our company is a trusted name in the industry because we work extremely hard to ensure every customer's satisfaction.

Booking and Release Process – Knowing how it works can help you avoid mistakes.

Booking and Bail in Cypress, California

No matter what you have been charged with, DUI. OWI, domestic violence or shoplifting, the process for an arrest is the same. You will be taken into custody and escorted by the Sheriff's Department or the Cypress Police to the one of the following jails: Orange county Jail, Sheriff's Station Jail or the Cypress Police Station Jail. You will be held at that facility until your arraignment. An arraignment is technically your first court appearance. Bail can be posted at any time, in any facility.

A defendant will not know if he is eligible for bail until he passes a "Live Scan" background check. This special machine links national, state, county and city databases. If the defendant has any pending warrants or holds anywhere in the country or state, they will appear during the scan. Once a person has been cleared using the Live Scan system, the defendant will be able to bond out of jail. The bail bond agent's application for bail will be reviewed by the jailer, bail will be posted and the defendant will be released.

Once bail has been accepted by the jailer, it can take anywhere from 30 minutes to 3 hours for the defendant to be released. Having a Cypress bail bond agent who is local is imperative in this situation. The time it takes to release a defendant can vary depending on the facility and how busy they are. The bail bond agent will also suggest that the defendant hire a reputable Cypress criminal defense lawyer to get their case underway.

Call 888-839-2245 today and let the Cypress Bail Bond Professionals help you get back on track.