Bail Bonds in Fountain Valley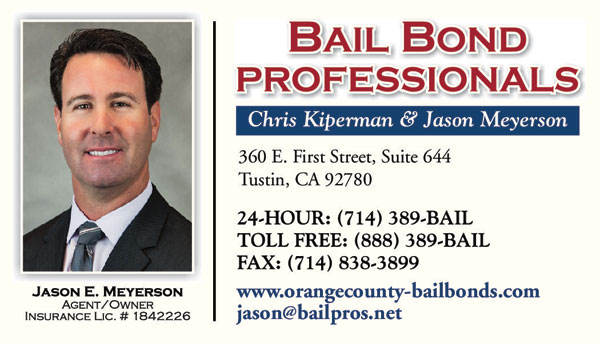 Fountain Valley BAIL BONDS SERVICES
When the Santa Ana police make an arrest in Fountain Valley, the person is booked shortly after they are taken into custody. The defendant will either be transferred to Orange County Jail which is located next door, or bail will be set so they can have the option to be released. Bail bonds enable a person to be released from jail. In return, the court is guaranteed that the person will appear at any and all court appointed hearings.
Fountain Valley Police
10200 Slater Avenue
Fountain Valley, CA 92708
What Is Bail?
A bail bond is a written guarantee or insurance policy. It is a guarantee by the defendant that if he or she is released from jail, they promise to appear at hearings scheduled by the court. If the defendant fails to appear, their bail money will be forfeited. At that time, a warrant will be issued for their arrest. If the defendant flees, the bail bond agency is obligated to locate them return them to the authorities. After the defendant has appeared in court and the case is closed, the bail money will be released. The court takes various types of payment for a bail bond, although the most common is cash. Various forms of collateral can be used to secure a bail bond. Collateral used to secure a bail bond includes deeds to homes and car titles. The term Property Bond is used when a bail bond is secured with land or other collateral. The amount of bail varies according to the type of crime that has been committed. Criminal record and the defendant's conduct are also taken into consideration. The phrase "innocent until proven guilty" does not pertain to bond. A judge sets the defendant's bond as if guilt has already been implied. Bail for minor offenses is relatively low, while felony crimes can have bail amounts that are over a million dollars.
Bail Bond Services in Fountain Valley, CA
Bail is not an expense many people count on. A bail bond agent is has the financial resources to help make up the difference. For a fee of either 8% or 10% of the total amount, a bail bond agent can post the funds needed to obtain your release. California law mandates the 8% to 10% fee. It is non-negotiable and non-refundable. If your bond is $20,000, your bail fee would be approximately $2,000. After all court obligations have been met and the case is closed, the bail bond money will be released. The bail bond agency is liable for the entire bail amount if the defendant flees and does not attend his or her hearings. If a defendant does flee, a bounty hunter or recovery agent may be enlisted to return them to the custody of the authorities. When this happens, additional collateral may be needed.
Fountain Valley, CA
According to the 2010 census, Fountain Valley has a population of 55,313. Located in Orange County, California, Fountain Valley is a middle class community.