Bail Bonds in Newport Beach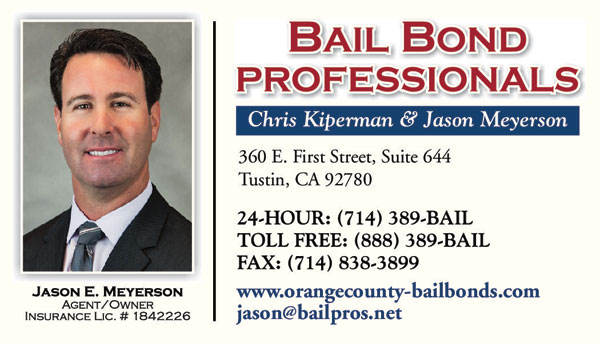 Arrests are unexpected events that shake your confidence and upset your budget. No one is ever really prepared to deal with an arrest, especially when it comes to the financial aspect of the situation. Most people today have barely enough in savings to cover a month's worth of their bills. Having to come up with the cash to post a bond can be devastating on all levels. When you are first notified of an arrest, your first call should be directed to the most reliable bail bonds agency in the area. You can reach Bail Bonds Professionals at their toll-free number, 888-839-2245, any time of the day or night. The office is open around the clock and agents are always on call.
You Deserve the Best
Bail Bonds Professionals are the very best at what they do. They have spent years building a reputation that is second to none when it comes to providing fast and efficient service. They offer:
100% confidentiality
Professionalism
Integrity
Many years of experience
Great attention to detail
Financing for those who qualify
When you are dealing with a frustrating situation, you want to have a bail bonds agency on your side that has the knowledge and experience to get the job done right the first time. In Newport Beach and many of the surrounding communities, Bail Bonds Professionals is one of the most well-known and well-respected bail bonds agencies around.
After an Arrest
After an arrest, you will be taken to the Newport Beach jail located at 870 Santa Barbara Drive. Friends and family can call the police department at 949-644-3681 to find out the information they need to provide to the bail bonds agent. Once you complete the booking and intake process, you will be transferred to a cell until bond can be posted. If a bondsman is hired to post your bail, the release process will begin and you will be allowed to go home once it's been completed. In total, you will spend anywhere from 2 to 12 hours in the jail while both the booking and release processes are completed. Before you leave, you will be notified of the charges that have been filed against you and what you must do to remain in compliance with the court's requirements for your release.
The Bail Bonds Process
The bail bonds process is rather simple. Once charges have been filed, bail will be set according to the nature and severity of the crimes committed. A bail bonds application is filled out and a 10% premium must be paid to secure the bond. Your bondsman will post the bond at the jail and the defendant will be released. You can also post a bond if you have an outstanding warrant. In this situation, you will go with your bail bondsman to the jail and while you are being processed, the bondsman will be taking the necessary steps to post your bond. You will go straight from booking and intake to the release process. You will have to remain in compliance with the court's conditions upon your release just like you would if you had gone through the process in the conventional manner.
The Courts
As part of your agreement with the court, you will need to appear at your court hearings. When you are released you will be provided with the dates and times of the court proceedings that have to do with your case. In Newport Beach, California, you will have to go to the Harbor Justice Center of Newport Beach located at 4601 Jamboree Road. If you have questions, you can call the Center at 657-622-5400. The switchboard operator can direct your call to the appropriate office within the courthouse. The Center serves many of the nearby communities surrounding Newport Beach.
Stay Your Course
Once you have posted bond and returned home, you will need to make sure you fulfill your obligations to the courts, as well as your family. The right to post bond is a privilege that should be taken seriously. It gives you the opportunity to return to your job and to take care of your family. It also allows you to make the necessary arrangements for their care if you are required to spend any length of time in jail. Posting bond also allows you to hire an attorney and begin working on your case so that you are sufficiently prepared once it's time for you to go to court.
In addition to attending your hearings, there are other stipulations you must agree to as part of your bond agreement. They include, but aren't limited to:
Staying within the court's jurisdiction
Not committing any additional crimes
Not possessing a firearm or other type of weapon
Avoiding the use of alcohol and drugs and not entering establishments where alcohol can be purchased
Checking in with both the courts and your bondsman on a regular basis
Notifying the courts and your bondsman of any changes in employment or personal contact information
If you don't remain in compliance with these stipulations, the judge has the right to revoke your bond and have you placed back in jail until your scheduled court date.
Integrity and Reliability
During a difficult situation, you need to have someone on your side who is reliable and trustworthy. The agents of Bail Bonds Professionals take pride in offering their clients 100% confidentiality and the highest level of professionalism possible. Integrity and compassion are two things they hold in the highest regard and strive to treat each client as if they are one of their own. Our agents understand that bad things can happen to the best people. That's why they always go over and above what is expected of them to make sure each situation is handled tactfully and compassionately. No matter where, no matter when, your bondsman will always be available to answer your questions and provide you with the peace of mind you need.
When the day comes that you have to deal with an arrest, your first phone call should be to 888-389-2245. At Bail Bonds Professionals, we make ourselves available any time of the day or night. Situations can arise at any time, so we have someone on call 24 hours a day, every day of the year. Our agents are capable of working anywhere in the state of California and will do our very best to expedite the bonds process whenever we can. No one likes to spend time in jail. That's why we do our best to treat each client as a top priority. If you are dealing with an arrest, don't delay! Call 888-389-2245 now to talk to a bondsman and get the bail bonds process underway.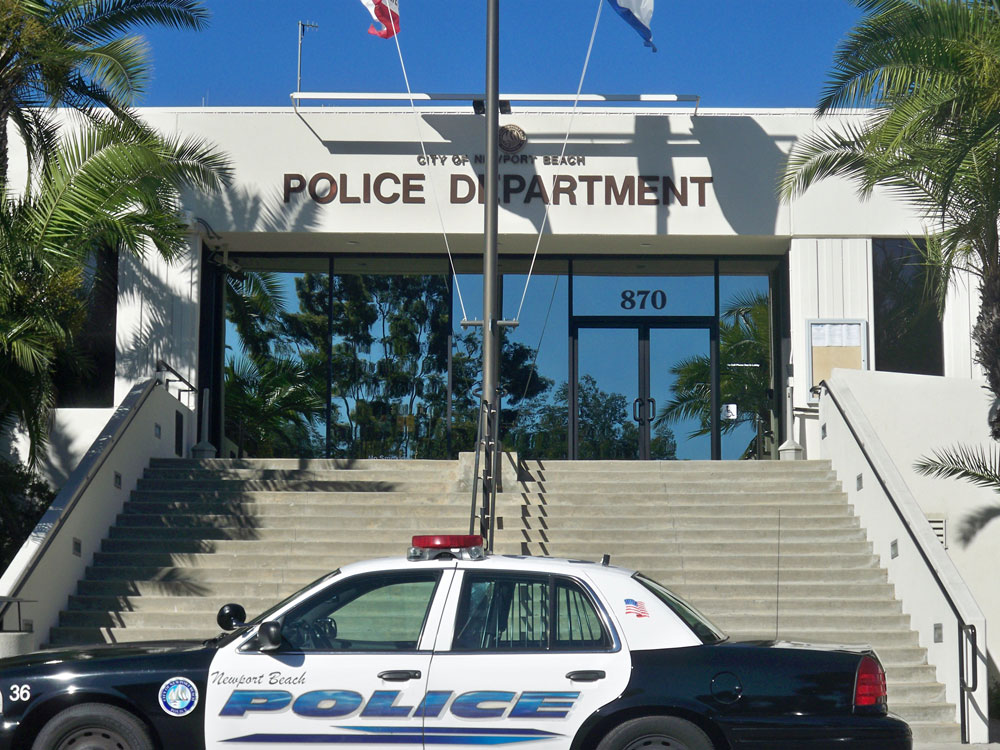 Newport Beach Police

870 Santa Barbara Drive
Newport Beach CA 92660
Newport Beach, CA
Newport Beach is a small city on the scenic coast of southern California, located in Orange County. It is comprised of several miles of beaches, Corona Del Mar, and a series of artificially-made islands; Newport Island, Balboa Island, Little Balboa Island, Collins Island, Bay Island, Harbor Island, Lido Isle and Linda Isle. The islands host mostly private homes of high-income residents. Known for its beaches, surfing and great weather, there are also areas with tide pools where one can explore nature. Swimming, surfing and snorkeling are popular activities at Crystal Cove State Park and Corona Del Mar State Beach.  Newport Beach is frequented by tourists and vacationers.
The residents of Newport Beach are generally affluent, and beach-side homes line most of Newport Beach's ocean-front areas. Shops and dining are abundant in areas along the Balboa Peninsula, as well as along its streets. A Fun Zone is also located on the Balboa Peninsula, with a Ferris wheel and other attractions. A ferry carries pedestrians and bicyclers across from the Fun Zone area to Balboa Island.
The Orange County Museum of Art is located in Newport Beach, as well as Newport Harbor and Newport Bay. Newport Harbor initially was used for commercial fishing and ship building, but today is primarily used for recreational boating. This harbor docks over 9,000 boats, and is among the largest harbor in the Pacific southwest.