Bail Bonds in Anaheim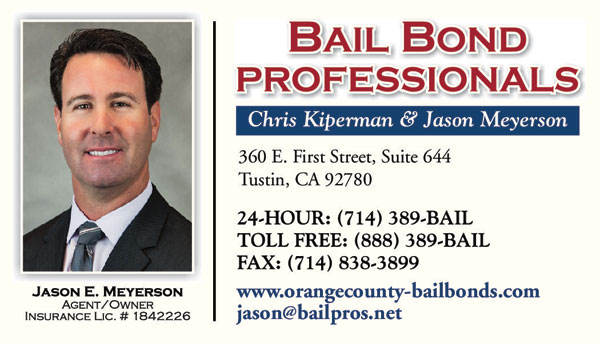 Hire Anaheim's Top Bail Bondsmen
Has someone you know been arrested? You are likely in you in desperate need of someone to bail you or them out! Well, it is imperative that you get in touch with an experienced bail bond agent.
You don't need a salesman, you need a professional to put your mind at ease. We, at the Bail Bond Professionals, are at your disposal with over twenty years of experience.
We have built an outstanding reputation, particularly with criminal defense attorneys who rely on us to assist their clients. 
We provide one-on-one service to our clients because we realize the urgency of your issue. Take a finer look into how we, at Bail Bond Professionals, can be of your service.
About Anaheim Bail Bonds
Is your close friend or relative arrested at the Anaheim jail? The jail is at 200 S. Anaheim Boulevard, and its entrance is behind the building by Santa Ana St.
You can contact now us to assist in gathering arrest information by calling 714-389-2245 or 888-389-2245.
In case of urgent assistance or emergencies relating to Anaheim bail bonds, Bail Bond Professionals is there for you.
Why Choose Bail Bond Professionals?
There is no higher level of service this is offered. After all, Jason Meyerson and Chris Kiperman, the owners, have been practitioners in the field for over twenty-five years.
You could also get in touch with us through a toll-free number: 888-389-2245.
Our reach extends from the core of the Anaheim community to all of Orange County.
Where Does Bail Bond Professionals Come in?
You must be familiar with the term 'Client Apprehension.' This is a role that is frequently shown in films and television shows.
Many defendants lack the financial wherewithal to post bail independently, which is where bail bonds brokers come in. What should you do then?
You can acquire a bail bond professional or a bond agent. They will be engaged to serve as a bond security agent in order to obtain release. Upon receiving a non-refundable fee from the defendant, their family, or friends, the agent shall grant bail.
Why Might You Need Bail Bonds in Anaheim?
Getting arrested is hardly the plan of action someone aims towards. So consequentially, similar is the case with availing yourself of a bail bond.
While nobody plans on it, bail bonds could serve a huge interest when your loved one is in jail. It is especially true if you belong to a low or mid-income family and have found yourself in this dire situation.
The concept of bail was set forth as a method of allowing defendants some flexibility. While they await their trial proceedings, the bail serves as their right to avoid imprisonment. You might wonder how it might work as a benefit.
How Do Bail Bonds Help You?
If you want to get out of jail, you could be looking for a reliable bail bond firm. After doing this, they would then help you prepare your case in court during the trial.  
Here are some points as to how they would be of great help:
You could get out of jail fast if you use a bail bond agency or the services of a bail bond agent.
If you don't have enough money to pay off your bail bonds right away, you may work out a payment plan with the bail bond firm.
All of your paperwork gets handled by a bail bond agent, and you will simply have to sit tight for your release papers.
With bail bonds, you have the option of paying just a part of the whole amount. The defendant is still liable to pay up for the rest of the amount if they fail to present themselves in court.
How Do Bail Bonds Work in Anaheim?
The way bail bonds work in Anaheim is no different from how they work anywhere in California. You have several agencies and firms that could help you out with bail bonds.
A bail bond in Anaheim is a guarantee given to the court. This is by an entity that the defendant will attend at all appointed hearings in the criminal case.
One of their representatives will inquire about the defendant's circumstances, such as the accusations they face. They will also be asked about the jail where they are detained and their booking number.
The law legally requires these agencies to charge an exact 10% premium on the entire amount of your set bail.
You can further get it reduced to 8%. This reduction is possible only if an attorney refers the defendant to the bail bondsman.
What Do You Mean by Bail Bonds?
The P.C. Section 1276, a bail bond agent licensed by the state and insured, can post bail for an arrestee. Since it is on behalf of the defendant, the agent receives a 10% premium as their pay.
To secure a bail bond, you must meet certain requirements. These requirements, also known as collateral, could include automobiles, jewelry, property, bank accounts, or even stocks and bonds.
So, you could lose this collateral in case your bail bond is forfeited.
In simple terms, a bail bond acts as any other contract. In this case, it exists between the defendant and the agent, who then become the bond's co-signers. It could also render the bail bond agent accountable for the bail amount in case the defendant fails to appear in court.
If the defendant "skips bail," the agent could act like a "bounty hunter" until they can find the defendant. Regardless of that, the fleeing could lead to losing the bail money raised if paid in cash.
Ultimately the judge would decide to reinstate the bail bond after the defendant shows up.
What are the Alternatives to Bail Bonds?
You have three other alternatives that you can avail yourself of if you want to get someone out of jail. While a bail bond is the most common option, your other choices are as follows.
Cash Bonds
The California Penal Code (P.C.) Section 1269 offers you an option to make the payment in cash or through a cashier's check.
However, the bail amount in Orange County is rarely set below $10,000. At times, the bail amount could also go as high as $100,000. So, if that seems like an achievable amount for you, nothing like it.
That said, cash bonds might not be the most practical option for most people.
Besides, you already know that you will not be able to recover the money in case of the defendant skips bail.
Property Bonds
Under the P.C. Section 1276.5, defendants have the option of posting bail through a property deed.
However, there is more than what meets the eye with property bonds. The defendant is required to own at least twice the equity as the set bail amount. Moreover, the process of getting an appraisal along with other necessary paperwork can often take longer.
The slower the process, the longer will your close friend or relative remain in jail. So, the question of practicality persists with this option as well.
Own Recognizance
The third alternative you have is your recognizance. The State constitution of California allows this option depending on the defendant's standing.
Meaning, does it find the defendant in a qualifiable standing within the society? If yes, they can avail themselves of the release. That said, they need to assure their promise that they would appear for their hearing.
This process is based on the concept of "own recognizance," or simply called O.R.
As it might be obvious, only a few of the defendants can qualify for this alternative. Especially given the criticality of felony cases.
Which is the Better Option?
You can probably tell that all three alternatives have their shortcomings and impractical qualification standards.
If it is possible for you to achieve or satisfy the requirements, you can always go for it. However, given their restrictive premises, it is evident why Anaheim residents prefer bail bonds.
Bail Bonds are a lot more practical and affordable.
What is the Process of Bail Bonds in Anaheim?
The process of bail bonds is complex and could even be quite lengthy at times. Here is a simple rundown to give you a better picture.
Verification and I.D. Process
Usually, the Anaheim Police Department book and process the case of the arrestee. Booking begins with going over and verifying the identification of the suspect. The department runs a live scan for the background check through the arrestee's fingerprints.
It holds a record of any prior arrests as well. The Orange County Bail Schedule posts or indicates a bail amount that the police department checks.
This whole process just takes a few minutes at Anaheim Police Department. However, the Anaheim jail's busyness level further affects the time.
Bail Bond Paperwork
The live scan checks for outstanding arrests, warrants, and bail-skipping incidents. In case it detects no such incident, the bail is posted as soon as the booking process is complete.
The bail bond processing and paperwork take about 30 minutes. In this stage, one needs to fill out the necessary documents, which can also happen over the phone or computer.
The Release
After receiving the bail posted, it might take a few minutes for the Anaheim Police Department Jail to release the inmate.
Another factor here is that the Anaheim Police Department Jail is fairly small. So, to avoid overcrowding, it could transfer the arrestee to the Orange County Jail. This facility is comparatively large and is in Santa Ana.
If your process before the transfer is not fast enough, booking could take much longer after that. While the booking could take up to 12 hours, the release could take as long as eight hours.
Effectivity of Bail Bond Professionals
By now, you know that the bail bond process can be lengthy and also overwhelming. To help you out with the complexities, our team at Bail Bond Professionals puts its intricate knowledge and expertise about the inner workings to use.
We have experience and insight into the Anaheim and Orange County jails, along with the court system. So, our team can help you minimize the pre-bail jail time for you or your loved one.
We further help through every step of the process by explaining the complications wherever necessary. A bail bond agreement is no simple matter, but our representatives at Bail Bond Professionals ease its terms for you.
Service that Bail Bond Professionals Offers
Nobody plans on getting arrested, and it can get overwhelming to find yourself in such a situation. Our Bail Bond Professionals team acknowledges the distress and duress you might be under.
Even though the general process tends to remain the same, each case might call for a different response. Regardless, here are the services that we can offer you.
Free Advice and Guidance
In several cases, all you need is reliable information about how the bail bond process works. It is natural to have doubts and queries, and resorting to unreliable sources can be very misleading.
At Bail Bond Professionals, you can also access these details and information about the process or agreement. We also offer professional guidance in case that is what your case calls for.
So, you can simply call us up for advice. It is completely free of cost.
24 Hour Customer Service
Along the same lines, Bail Bond Professionals further extends its customer service throughout 24 hours.
The response you receive from us is unparalleled. The reason behind it is the guaranteed professionalism and confidentiality. That said, we are also very personal in our service, and our response is respective to your case.
Payment Plans
With Bail Bond Professionals, you do not need to worry about Annual Premiums. As we like to put it, you do not have to pay twice with us.
If you need a bondsman to accompany you to the court, you can make use of that service. And while you are at it, you will not have to pay any additional costs. We shall include it in your payment plan.
Speaking of payment plans, you will find that our options are very flexible. You also have a wide range of variety for payment methods. It includes Visa, Amex, MC, and Discover, whichever is more convenient for you.
In case of urgency concerning bail bond agreements in Anaheim, Orange County, simply ring us at 714-389-2245.
Points of Contact
One way to know you are resting your fate in the hands of professionals is if your points of contact are the owners themselves!
When you give us a call at Bail Bond Professionals, we directly put you in touch with Jason or Chris. They have had strong experience in the field for over fifteen years now. 
They will patiently explain the process of Anaheim bail bonds and answer all your queries concerning the agreement. They also help you find out what the status of your loved one is in the process of booking, arraignment, or transferring.
Moreover, depending on your convenience, they help you meet your close friend or family member at the jail.
Our best-case scenario has the bail processed within a matter of ten to 20 minutes!
The Commitment that Bail Bond Professionals Offers
Have you found yourself in a dire situation and desperately need to bail your close friend or relative out of jail?
You know that the next ideal step would be to approach a bail bond agent. However, the process can be overwhelming, and failing to make the right match could cost you dearly.
With Bail Bond Professionals, you do not have to worry about any of that. Here are the cornerstones with which our team sticks:
Professionalism
As the name of the firm indicates as well, professionalism is prime to our work ethic and ethos. From former clients to renowned defense attorneys, you will find testimonials supporting the fact.
Availability
Along the same lines, our team believes that one way to ensure professionalism is through speed and effectiveness. So, Bail Bond Professionals is a close-knit team that keeps things small and personal.
We acknowledge the importance of your need for professionals and expert bondsmen. After all, resorting to unreliable services and shady agents can only land you in more trouble.
Guarantee of Experience
Despite being a small team, we are a firm strictly consisting of verified bondsmen.
The experiences of former clients testify to the fact. Based on the same, several defense attorneys of high profile rely upon and recommend defendants to approach our team.
It is not only true for the Anaheim community but throughout Orange County.
Quick Deliverance
All of the above commitments and salient features of Bail Bond Professionals lead to quick deliverance.
Typically, the Anaheim police department jail books and holds the arrestees for about a day or two. It could also take longer depending on whether the court has processed their arraignment or not.
After their arraignment, the police department buses the inmates to the Orange County jail in Santa Ana. As you already read before, the overcrowding could lead to transfer and thus lengthen the whole process even further.
One call to Bail Bond Professionals can help you figure out what the status is with your loved one. After answering some questions, our team helps you arrange a meeting for you at the jail.
The best-case scenario involves releasing your friend or family member within a matter of ten to 20 minutes from a local jail.