Bail Bonds in Brea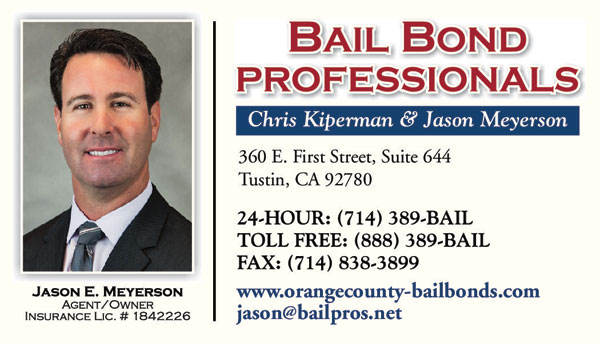 Finding out that someone you care for has been arrested can often feel like a nightmare, especially when you realize how complex legal matters can get. If you do find yourself in this situation, it's best to seek out the advice of an experienced Brea bail bonds expert. Our seasoned team of bail bonds professionals is here to help at any time, day or night, 365-days a year.
Why You May Need Bail Bonds in Brea
Getting arrested is not something anybody ever plans for, and even the most law-abiding citizens can find themselves on the wrong side of a set of handcuffs. Posting bail bonds not only allows you to get out of jail while your case is pending, it helps you get back to your job, your friends, and your family.
Consequently, consulting with a bondsman is essential if a friend or loved one is in the Brea Jail.
What are bail bonds? Simply put, a bail bond is a document that's posted with the jail. It promises that if a defendant is released on the bail bond, pending trial, that the defendant will return to court (as often as necessary) to finish their case. If the defendant "skips bail," and decides to become a fugitive of the law, the bail bonds company (and ultimately, the person who cosigned for the defendant's bail bond) will be on the hook to pay the full bail amount to the court as a penalty.
How Can an Experienced Bail Bonds Company Help You
Posting bail bonds isn't as complicated as you might think, especially if you work with an experienced Brea bail bonds company. How can a bail bond company help you?  Below are just a few of the benefits associated with working with a reputable agency.
The release process will be much faster. If you work with an inexperienced agent, that agent will be more likely to make mistakes. Working with a seasoned professional can help ensure the process goes smoothly. 
Are you concerned about the cost of the premium? We can still help. Our company offers a variety of bail bonds payment plans designed to work within your budget.
Bail bonds paperwork can feel overwhelming, especially if you've never needed to work with a bondsman before. We'll walk you through the paperwork, step by step, and we'll answer any questions you might have along the way. Most of our clients find out that the bail bonds application can be completed in under 10 minutes, and in most cases, we can handle this step over the phone.
And lastly, the cost to purchase bail bonds is roughly 10% of the defendant's bail amount. Your other option is to post cash bail, which would involve putting up the defendant's full bail amount, in cash, at the jail. Most people find that bail bonds are a much more affordable option.
How does the Bail Bonds Process Work?
When you decide to post bail bonds, the agent you're working with will help guide you through the application process. They'll ask how long you've known the defendant, if they're employed, how long they've been with their job, where they live, whether they have children, and if they have family that lives within the area. The bondsman will also want to know how long you've known the defendant, whether they have a prior history of arrest, and if you're willing to take full legal responsibility that they'll return to court, as often as needed, to finish their case.   

The bondsman will also ask what type of work you do, whether you rent or own your home, how long you've been with your job, and how well you know the defendant. Posting bail bonds for a close friend or family member is one thing- wanting to post bail bonds for an acquaintance, someone you haven't seen or talked to in 5 years, or for someone you just met, is another. Again, when you sign the bail bonds agreement form, you're taking full legal responsibility that the defendant will go to court and finish their case. This is not a responsibility that should be taken lightly.
Once the bail bonds application is complete and payment for the bond has been made, an agent will be dispatched to the jail to post the bond. Most defendants find they're released from the Brea jail within 1-3 hours after their bail bond is posted.
The Process of Bail Bonds in Brea
The bail bonds process can often feel tedious and hectic to someone who has never needed to hire a bondsman. Before. The good news is that when you work with a seasoned professional, the process won't be nearly as complicated as you might think.
Booking
When someone is arrested they'll be handcuffed, informed of their Miranda Rights, and they'll be transported to the local jail. When they arrive at the jail, they'll be fingerprinted, photographed, and they'll be checked for outstanding warrants. The warrant check often takes between 4-6 hours to complete and bail bonds cannot be posted until the warrant check results are processed. 
Bail Bond Paperwork
Although bail bonds can't be posted until the warrant check results come back, you'll want to start the bail bonds paperwork as soon as you find out your friend, spouse, or family member will be arrested. Completing the paperwork ASAP can help ensure the defendant's bail bonds will be posted as soon as the jail will allow it. If you want to meet with us in person, we can arrange that. Or, if you'd prefer to handle the process over the phone, pay by credit or debit card, and e-sign your bail bond documents, we can help with that as well.
The Release
Release times at the Brea jail are much faster than the release times at larger, county facilities. However, this jail was not designed to hold defendants for a long period of time. If the jailer thinks that bail bonds are not being arranged, they might put the defendant on a bus to the Orange County Jail.  This can and will delay the release time by hours. When defendants are transported to the county jail, they'll need to start the booking process all over again. Also, of note, is that the release time from the OCJ spans between 5-8 hours, depending on how busy the jail is. Suffice to say, posting bail bonds ASAP, at the Brea jail, is highly recommended.
Out-of-Area Clients
Do you live in another county or state, but you need to get a loved one out of the Brea jail? There's still a good chance that we can help. Why? Because we offer bail bonds by fax, bail bonds by email, and other online bail bonds options. 
Bail via Email: If you are the cosigner for the defendant, we'll need you to sign the bail bonds contract. You can do this in one of two ways. First, we can send you a PDF contract that you can print out, sign, scan and send back. A second option is for us to send you an e-sign document. With e-sign contracts, you can sign using your finger on your smartphone, laptop, tablet, or touch-screen computer.
Bail by Fax: If you prefer us to fax you the bail bond paperwork, we can do that as well. Once you receive the documents, sign them and fax them back to our Orange County office at (714) 838-3899. As soon as we receive your signed documents and payment arrangements are made, we'll dispatch an agent to post the defendant's bail bonds
As we've stated before, the decision to cosign for someone's bail bonds should not be taken lightly. If you have additional questions about how the bail bonds process works, or you'd like to know more about the responsibilities you'll have when you cosign for bail bonds, call our office today to learn more.
Why Choose Bail Bond Professionals?
There are dozens of bail bond agents serving Orange County; however, not all bail bonds companies are created alike. Our company is known for its speed, professionalism, and compassion.
If you require bail bond assistance in Brea, we can help. The agents Bail Bond Professionals have decades of combined experience in helping get people out of jail fast. We understand this is a stressful time for you, and we're here to help you at any time, day or night, every day of the year.
We are reputable and our prices are reasonable. Our integrity and professionalism speak for itself. Call us today to learn why we're the #1 attorney-preferred bail bonds company in the region.
Below are just a few of the things that differentiate us from our competitors:
No Hidden Fees
As mentioned before, the cost to purchase bail bonds is often 10% of the total bail amount. We don't tack on hidden fees, surcharges, and we don't charge interest on bail bonds payment plans.  We also don't charge annual premiums. Whereas some companies will charge you 10% per year, for as long as the case is open, we do not.
Prompt Responses
At Bail Bond Professionals, we ensure every call and email is answered promptly. We understand that this is a trying time for you. Our number one priority is to help you get your loved one out of jail fast.  We're available to help you 24-hours a day, weekends and holidays included.
Quick-Release
When the paperwork is completed and payment arrangements have been made, our agent will be standing by to post the defendant's bail bonds. The agent will be dispatched to the jail as soon as the booking process is complete.
Full Confidentiality
The information you provide to us is 100% confidential.  We'll never sell your information to third parties, and we'll keep your bail bond contract under lock and key. We'll also send you a privacy disclosure along with your bail bonds paperwork that indicates that the information you provide to us is not shared outside our office.
Flexible Payment Options
Although some people are able to pay the bail bonds premium up front, in full, with a debit or credit card, others cannot. This is why we offer flexible, custom bail bonds payment plans for our clients. Let us know what you can afford to pay per month, and we'll do our best to make it work. Regardless as to whether you need help with $20,000 or 1 million dollar bail bonds, our company is here to help.
Benefits of Working With Bail Bond Professionals 
We have years of experience in helping people get out of jail fast. We're reputable, we're knowledgeable, and we understand how to get the job done right. For more information or to speak with an agent directly, you can reach by calling one of the following numbers:
Local Telephone: 714-389-2245
Telephone: 888-389-2245
About Our Company
Learning that a friend, spouse, or loved one has been arrested can be one of the most stressful experiences you'll have in your entire life. It's natural to be laser-focused on wanting to do everything you can to get that person out of jail fast. When you work with our company, you can rest assured that we'll do everything we can to get the bail bond posted ASAP.
If you have a family member or friend who is being held at the Brea jail, you can contact us, day or night, at 714-389-2245. We are open 24-hours a day, 7-days a week, 365-days, a year.
Remember- a trusted bail bond team can help expedite the defendant's release. Call our office today to learn why we're the most word-of-mouth referred agency in Southern California.
How Bail Bond Professionals Can Help
Did you know that anyone who gets arrested in Brea, California, is taken to the Brea Police Department Jail (located at 1 Civic Center Drive)? And did you know that inmates are held here only for a limited period before they are shifted to bigger facilities like the Orange County Jail facility in Santa Ana? 
Our company has intricate knowledge of every police department and jail system in the county. We understand the importance of posting Brea bail bonds fast, because if a bond is not posted promptly, the defendant will be transferred to the OCJ.  Each agent at our company has been working in the industry for a minimum of 10 years. We understand how to guide you through this process quickly, seamlessly, and without mistakes.
Bail Bonds: An Insight
All defendants who have not been accused of a capital offense (i.e., a crime that could come with a death penalty sentence if the defendant is convicted), are legally entitled to post bail.  Our company can help with DUI bail bonds, domestic violence bail bonds, bail bonds for drug charges, and bail bonds for white collar crimes.
It's also worth noting that when you work with a bail bonds company, the fee you pay to the bondsman is a set percentage of the defendant's total bail amount. In most cases, the fee to post bail bonds is 10%. If the defendant's bail has been set at $15,000, you can expect to pay $1,500 to arrange a bond.
The second option to get someone out of jail is to post cash bail, however, this option isn't viable for most people. To post cash bail you'd need to put up the defendant's full bail amount, in cash, with the jail.  Once the defendant's case is over, the cash would be returned to the person who posted it, less administrative fees. On the other hand, if the defendant skips bail because they want to avoid prosecution, that money would be considered forfeited—you would not get it back.  
If you do decide to post bail bonds, you'll want to be aware of your responsibilities as a cosigner. If the defendant is your longtime friend, family member, loved one, parent, sibling or adult child, you'll likely qualify to cosign for their bond.
Remember, the cosigner is liable to pay for the entire bail amount if the defendant skips bail and becomes a fugitive from justice. If the defendant misses court because they're sick, there's an accident on the freeway, or some other type of emergency arises, you don't need to worry. We can help them get their bond reinstated.
However, if the defendant flees the jurisdiction, country, and they have no intention of ever coming back, their bail bond can be forfeited. Suffice to say, you should never, ever cosign for bail bonds for someone you just met, haven't talked to in years, or barely know.   
Additionally, when released on bail bonds, the defendant must abide by all the bail terms, like staying in the same county and making sure to update the bail bonds company if they move, change jobs, or change their phone number.
Contact Bail Bond Professionals for All Your Bail Bond Needs
If you need help with Brea bail bonds, we can help you at any time, day or night, 365-days a year. For more information on how the bail bonds process works, or what you'll need to do to get your loved one out of jail fast, call our office today to speak with an experienced bondsman.