Bail Bonds in Orange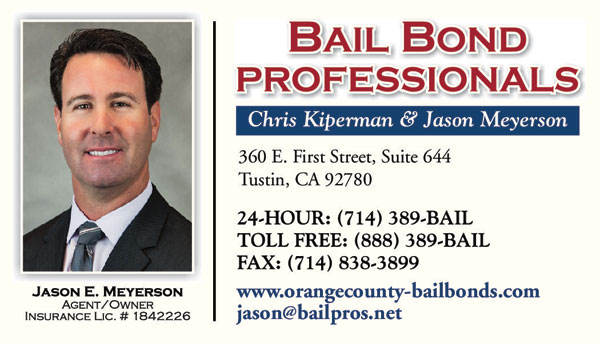 Has someone you know been arrested by the Orange Police Department? If so, call us immediately to explain what happens next. We are the recognized local experts at having those arrested by the Orange Police release quickly. (714) 389-2245
The City of Orange in Orange County, California, is full of charming antique homes, enjoys a year-round warm and pleasant climate, and has quick access to the shopping and entertainment districts of nearby Santa Ana and Anaheim, and to the beautiful beaches just down on the Orange County Pacific Coast. 
But the arrest rates in Orange and throughout Orange County are high - and Orange County's daily average inmate population of some 6,000 is the second highest in the state. If you've been arrested in Orange, then that "Slice of Old Town Charm" will suddenly be of little comfort to you.
But you need not just give up and wait for days on end in jail, and end up arriving at your arraignment unprepared. We at Orange County Bail Bonds have bail bonds agents on the ground 24/7/365 who can expedite the process of getting you out of jail.
We have a longstanding relationship with the community of Orange and all of Orange County. We have a track record of responding to calls for help with agents on-site within minutes and of finishing all bail bonds paperwork in only 20 to 30 minutes. We get you out of jail as quickly as possible because we understand the details of state and county bail law and are fully familiar with the inner workings of local jail facilities.
Contact us anytime 24/7 by calling 714-389-245 and we can give you a free, no-obligation bail bonds consultation, quickly arrange all preliminary paperwork, and begin the process of getting you or your loved one bailed out as soon as he/she has been booked.
Why You Should Use Bail Bonds to Get Out of Jail Fast
It is your Constitutional right to enjoy the privilege of being out of jail on bail, unless your crime is a capital offense or you are deemed likely to flee justice regardless of any bail due to the nature of the potential penalties you could face OR due to a past history of not showing up for your arraignments after being out on bail.
There's a reason why the right to bail is enshrined in our Bill of Rights. Unless you get out of jail before your arraignment in court, it's very difficult to hire a good lawyer and prepare a solid defense. It puts you at a huge disadvantage.
And there are other reasons to insist on getting out of jail fast, like the dangerous nature of the jail environment, the desire to be with loved ones during a time of turmoil in your life, or the need to take care of obligations on the outside.
As most people cannot afford to post "cash bail" in full upfront with the court, nor can they afford the delay of a "property bond" verification process (even if they have sufficient equity in property and with to risk it), bail bonds are by far the number one means of getting out of jail in the City of Orange and throughout the state of California.
How Do Bail Bonds Work in Orange, CA?
If arrested in Orange, CA, you may be temporarily held at the Orange County Police Department located at 1107 North Batavia Street in the City of Orange. But you could well be transported to jail facilities in nearby municipalities like Santa Ana or Anaheim.
The sooner you contact a bail bonds agency following your arrest, the sooner you can get out of jail. You will have to be booked, and then there is a release process that can begin as soon as we post bail for you.
Thus, it can take anywhere from half an hour to four or five hours to get out of jail, depending on which facility you're booked at and how busy it is at the time - but we at Orange County Bail Bonds know how to minimize the time you spend behind bars. And the sooner you call us, the sooner you can be "free again."
A bail bond is a security bond that a bail bonds agent posts as bail in your behalf. It requires a cosigner, which can be the inmate himself or a friend or relative cosigning for him. 
The bail bonds agency becomes liable to the court for the full bail amount should the bailed-out defendant fail to appear in court; and the cosigner then becomes liable for it to the bail bonds agency. If the defendant finally does appear in court, the judge may reinstate the bail bond, but that is at his/her discretion.
To secure a bail bond, California state law requires you pay a premium of 10% (no more, no less) on the full bail amount. That is not refundable but is how bail bonds agents make their living. A 20% discount can apply if a lawyer referred you to the bail bonds agent, making it an 8% premium instead.
It's much easier to pay only 10% of the bail (which could be thousands of dollars in some cases) than to pay the full amount.
Once out of jail, the bailed-out person must abide by certain restrictions until his/her trial is complete, such as not leaving the county and staying in contact with his/her bail bonds agent.
Why Choose Orange County Bail Bonds?
There are numerous bail bonds agencies out there, but not all of them are reputable and some of them hit you with hidden, extra fees. We never do that. We have a longstanding reputation in the community of Orange and beyond for treating our clients with respect and dignity and being upfront about all fees, which we keep competitive and reasonable.
Our bail bonds agents are highly experienced. They know the protocols at local Orange County jail facilities, are familiar with the county bail schedule, and even know many of the judges and jail officers by name.
We have the in depth knowledge and experience it takes to get you out of jail as fast as possible, regardless of which specific jail you're being held at. We can even help a loved one find his/her arrested friend or relative if a caller isn't sure where his/her loved one is currently being held.
We allow multiple payment methods, including credit cards. And if you can't afford the full 10% premium upfront, we work with you on financing. Many times, depending on your credit score, we can offer financing with no or low interest and no or minimal collateral.
Our agents can meet you at a place of your choosing, whether at the jail, at home, at work, or somewhere else; and we can even complete all the bail bonds paperwork over the phone and post the bail without your having to meet with us in person or go physically to the jail to bail out your loved one.
After the defendant is bailed out, we take the time to explain to him or her the bail terms that he/she must abide by and emphasize the need to show up in court on the scheduled date.
Also, we keep ourselves available 24/7, 365 days a year (holidays not excepted) for your convenience. Call us at 714-389-245 and we will literally rush to your assistance in minutes' time!